Adventure
A life by the sea
Illustrator and muralist Jasmine Hortop's artwork is born from her lifestyle waking up by the water everyday. Here, she speaks to Oceanographic Magazine about the power of art in fostering conservation, her life on the road, and much more.
An interview with and illustrations by
Jasmine Hortop
Additional photographs by
Vincent Printy
An interview with and illustrations by
Jasmine Hortop
Oceanographic Magazine (OM): How did you end up being an illustrator? Has this always been your dream?
Jasmine Hortop (JH): It's going to sound cliché but I have always been on this pathway ever since I was really young. I've always been obsessed with drawing. I remember saying that I would be a cartoonist when I grew up, which is probably as close to an illustrator as a six-year-old can imagine. I followed quite a traditional art education, from college, to a Bachelor's degree, and then onto a Master's which I am studying right now. There was a ten-year-gap between my higher education degrees; during this time I worked within the industry and it has been great to return to education with this level of experience to really go deeper into my practice.
OM: How would you describe your art style?
JH: In one word – flow. Even when I'm not directly drawing the ocean I need my artwork to feel synonymous with the same motions and fluidity you find in water. I was doing this long before I got so ocean focused thematically, and it's been like finding the perfect shaped key to open the box since.
OM: How do you create your pieces? What special techniques do you use?
JH: I use a lot of ink in my sketchbook because I love line work, the density of the in coverage really shows the flow and energy that has gone into it, and I love that. A lot of my work has quite a deep research stage, I take my gopro into the water and use it to film. I especially love the refraction of light and the distortions it creates through water, and marrying my lived feelings of being in the water, with film underwater footage helps me create what I'm unable to sketch from there and then.
OM: Many of your illustrations show the ocean and/or a deep water connection. How did your love for the ocean evolve?
JH: I've lived in big cities my entire life – London to Birmingham to Bristol – and so I had never really got the chance to explore more of an ocean based lifestyle. When I moved into my van, my first big trip was to drive nearly around the entire coast of Ireland, from Belfast to Rosslare. Ireland is just absolutely breathtaking, and I saw so much sea life…. the wildness of it all just blew me away. I had simultaneously just finished illustrating a campaign for the Whale and Dolphin Conservation coming into that trip, and I just had so much awe from learning more about the species that were found around the UK and Ireland. I started surfing and I've been glued to coastlines ever since that trip. I went back to Ireland last year for another four months. Knowing I was going to spend there, I made a pledge to get in the sea every day whether that would be for a swim or a surf. I did for 107 days straight. The cold water is exhilarating and I love the cold water swimming movement there. Each and every cold swim was beautiful.
OM: What do you think is important in life? Why did you take to living 'on the road'?
JH: 'How we spend our days is, of course, how we spend our lives.' I saw this quote recently and it resonated a lot. To me, freedom is probably the most important thing in life. I hate the feeling of being tied down, or restricted. With the van, I'm largely able to travel at my own pace, in comfort and in a way that facilities making artwork that feels authentic to me. A transient and more minimal way of living is so freeing. I love that I have nearly everything I own in this 12m2 space without feeling like I need anything more.
OM: Where are you currently and what have you learned about the place?
JH: I'm spending the winter months in the small town of Baleal in Portugal. I'm fortunate to get slightly warmer waters than Ireland here. I spend my days working at my desk with the side door open overlooking the ocean, checking out the surf, or getting in the sea. The tiny island of Baleal is separated from the mainland by just a thin strip of sand, and I love to walk from the view of Peniche where the sun sets, to the hords of seabirds that dive at the rocky north shore. Nearby the city of Peniche is a major surf spot, with one of Peniche's beaches featured on the WSL tour. Baleal is a lovely chilled out place with a few cafes, and lots of vans and surfers happy to stop and chat, and the slow way of living suits me just great.
OM: Where to next?
JH: I'm actually heading back to the UK for six months after spending most of the last few years away. I'm currently in the process of applying for a artist residency with a wonderful water based organisation that champions #BlueHealth, and I'm really looking forward to making lots more water based work through that, which together with a solo exhibition, will form the basis of the final project of my Master's degree. I'll still be in my van, and dipping off to south Wales and Cornwall at most opportunities. And in 2024 I want to go to Italy and Morocco.
OM: What has been your greatest encounter or experience 'on the road' to date?
JH: Unlocking a whole deeper connection to nature to what I had previously. I can't seem to pinpoint a single experience because the slower moments feel just as significant as the larger more 'wow' ones. I have been able to watch dolphins from my bed, open my doors to the snow-capped mountains, but also days spent drawing at my desk somewhere very quiet and beautiful feels just as poignant when I look back on the last couple of years.
OM: How does the ocean make you feel? Why do you thrive to be near it?
JH: It's a type of wild environment we don't really have access to on land, and stepping into it, I honestly feel like we are the most privileged of guests. In this world where we are rapidly losing forests and natural habitats, It's such a great feeling to know there is a vast body of water beyond me. There's a huge mindfulness aspect to it, both in the water and out. When in, it gifts you a physical distance away from mobile phones and computers. And when you're out of it, just the sound of ebbing and flowing of the waves is really quite grounding. I suppose it makes me feel that freedom that I value so much.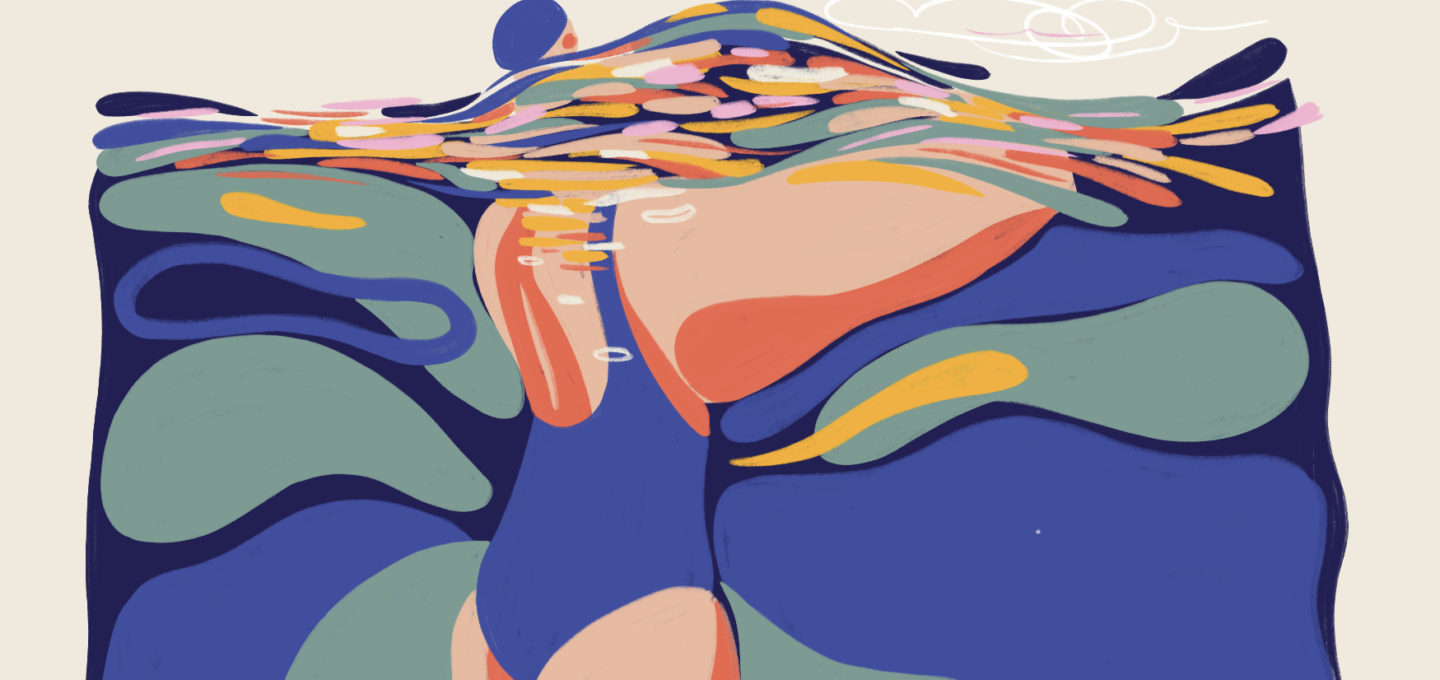 OM: What are you trying to achieve with your art?
JH: I'm trying to make the viewer feel that flow and the movement from something that is actually physically still. I have some exciting plans for this year, with a water based art residency and I want to use it to explore AR, to make my artwork feel more immersive. I have some murals booked too and would like to push them more, so I guess the shared component across this all is the feeling of immersion into the artwork. In the long term, I would love to use the impact this makes to work on more campaigns for the environment and the ocean in more highly creative and inventive ways, there is so much scope there, and the messaging in these areas is only going to become more important.
OM: What needs to be done to protect the ocean in your opinion?
JH: Measures on fishing, and pollutants being agreed upon at an international scale so the policies can trickle down to the regional level too would be ideal. I would also love to see more people using the ocean. I've seen so much positivity around blue health and I think it's a natural effect that when we recognise and then appreciate how much we are gaining from the ocean, we give more respect in return. This would be mutually beneficial and as we go further into this period of climate change feels all the more necessary.
OM: How can art help foster conservation? Why is it a vital tool to help ecosystems or species?
JH: I think art is essential in communicating difficult and large themes that can feel quite abstract or unknown to some. It can turn them into something tangible, something recognisable and that is an important tool when campaigning to the public and to decision makers. Where photography may be too shocking, illustration can allow a more conceptual or empathetic approach. Art exhibits, installations, and public art projects can educate the public about conservation issues, while documentaries, films, and books can tell the stories of endangered species and habitats in a way that can inspire people to take action to protect them. Some of the most shareable campaigns or activism art are down to a really interesting creative concept, art is a very powerful tool.
OM: What are the 'Daily Dip Diaries' all about? What do you try to achieve with it?
JH: The Daily Dip Diaries is my visual journal of sorts, it reflects upon the past days and weeks spent meandering down coastlines of Europe, and the sketches and drawings that I've been developing from my time spent in the sea. It's been lovely to practice another creative outlet (writing) to frame my drawings and put them in to context. I love connecting with my readers on a deeper more personal level, it's been a real passion project and I'm really looking forward to continuing it and inviting readers into my final six month long MA project this year, which I'm just finalising now.
OM: Why do you try to go on daily swims in your life? How does it advance your mental health?
JH: It started when I went to Ireland last year. I wanted to take advantage of the September swells to really improve my surfing. I was also aware that I would spend the winter months and darker days there solo in my van, which I find hard. You really feel the darkness in a van. So getting myself in the water every day for a swim or a surf was a way to keep embracing nature as winter drew in, and keep my mental health and spirits high. Through September and October I was surfing more than swimming, then from November the conditions drastically changed and the swells and winds picked up far too much for me to surf in.
I would swim, dive, and play around in the white water on huge days that were just far too dangerous to go any further in, or find sheltered little coves and have a proper swim, no doubt joined by 30 to 40 people throughout the day. Swimming hit different to my surfs there, I was only ever in a swimsuit, and the cold water really is so exhilarating! You feel incredible after, your whole body is tingling and you have this huge rush of endorphins. Every single swim I came out feeling amazing and like I could do anything.
Here in Portugal, I had a little break from making myself go in every day, but am still in most days. The water is a little warmer, the surf is a whole lot busier, and the sea swimming scene over winter is nearly non existent, so it is different. I definitely miss Ireland a lot in those ways, but I can always go back, and the sun here makes life in the van a lot easier. And when your home moves you may as well, right?
Follow Jasmine Hortop's Daily Dip Diaries here. 
Additional photographs by
Vincent Printy
Shop window
current issue
Back Issues
Enjoy so much more from Oceanographic Magazine by becoming a subscriber.
A range of subscription options are available.
Sea stories
Beautiful ocean stories straight to your inbox.
Join our community.