Explore the current issue
Beautiful photography. Captivating storytelling.
Take a look inside the latest issue of Oceanographic Magazine.
DIGITAL SUBSCRIPTIONS
Subscribe to the digital edition for just £20 a year, or enjoy it for free courtesy of Oceanographic's partnership with Marine Conservation Society. No cost, no catch.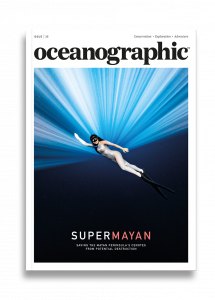 News from around our blue planet
We donate 20% of our profits to ocean conservation, supporting the amazing work being done by our partner charities. It is a promise we are proud of.
Sea stories
Beautiful ocean stories straight to your inbox.
Join our community.