Words and Photography by
Sean Scott
Words and Photography by
Sean Scott
The wipers on my 4×4 struggled to keep the windscreen free of water, the thump of their rhythmic strokes mimicking my pacing heart.
The storm was above me, illuminating the sand and sea around me with regular flashes of light, brilliant bolts from above, fierce and serene. With each electric fork driven into the waters around me, a feeling of gratitude and privilege welled up within me. I had timed things perfectly. I was in the heart of an ocean storm.
Moreton Island, a 37km-long sand island off the coast of Queensland, Australia, is the perfect place to witness the power of ocean storms. Located just 35kms off a stretch of Australian coastline that often encounters four-month-long storm seasons, it affords photographers the opportunity to place themselves 'in the eye' without having to be on the water itself.
But timing is still critical. Even in the middle of storm season – and even with excellent and reliable storm-tracking data to hand – the vast majority of storms do not pass by Moreton at all, let alone close enough to capture beautiful images. Many do not reach the ocean at all.
But on this occasion I had timed it well. It was the perfect storm. Having caught the ferry over to Moreton in the day, I'd had plenty of time to find my spot, navigating Moreton's terrain under a blue sky strewn with building clouds. Moreton is renowned for its sand dunes, beautiful sweeping slopes that act as a buffer between land and sea. Arduous work for those on foot; a thrilling addition to the day for those in an off-roader. When the storm finally arrived, and as it moved across the island and out to sea, that was when my vehicle would really earns its crust.
With the sky shape-shifting and burbling above, the data holding steady for a great show, it was time to wait. As with most photography, the pursuit of beautiful images comes with a great deal of patience. And luck. My fingers remained crossed for the remainder of the day. They would unravel with the arrival of the storm, ready for the shutter button.
Towering clouds reached upwards, stretching for the stratosphere and all that lay beyond. Blue sky retreated, along with the fading sun. As golden light illuminated the sides and undercarriages of the bulbous giants that loomed overhead, the air seemed to both cool and thicken. The horizon darkened to a chalkboard black, a zig zag of molten orange breaking through the distant sheets of tumbling rain, horizontal lava flows in a sea of ash. Claps of thunder rolled over land and water toward me.
The storm was here.
Storms are a sort of magic for me. The colours and sounds, the twisting masses of clouds and jagged lines of light that connect sky to sea. Some of civilisation's greatest mythological characters and stories come from the tumultuous realm above, a place of power and might. It has forever been a source of intrigue and mystery for our species, and now is no different – except for the fact we are able to capture that godly magic with the touch of a button.
Looking west towards Brisbane, the great storm pitching and lurching my way from land, I knew the city had been left behind. Residents and tourists would be leaving their boltholes and temporary shelters, paying-up for impromptu coffees enjoyed away from the thunderous storm outside, returning to the sidewalks and their days.
For me, it was just beginning. Moreton was in the storm's path, the diminutive isle on a collision course with Mother Nature. The bellies of the clouds rumbled, seemingly relentlessly, as the storm moved over Moreton Bay, the stretch of ocean that separates Moreton from the mainland. The tempest continued to dance and sing and she moved toward me, locked in that place between sky and sea, civilisation left behind.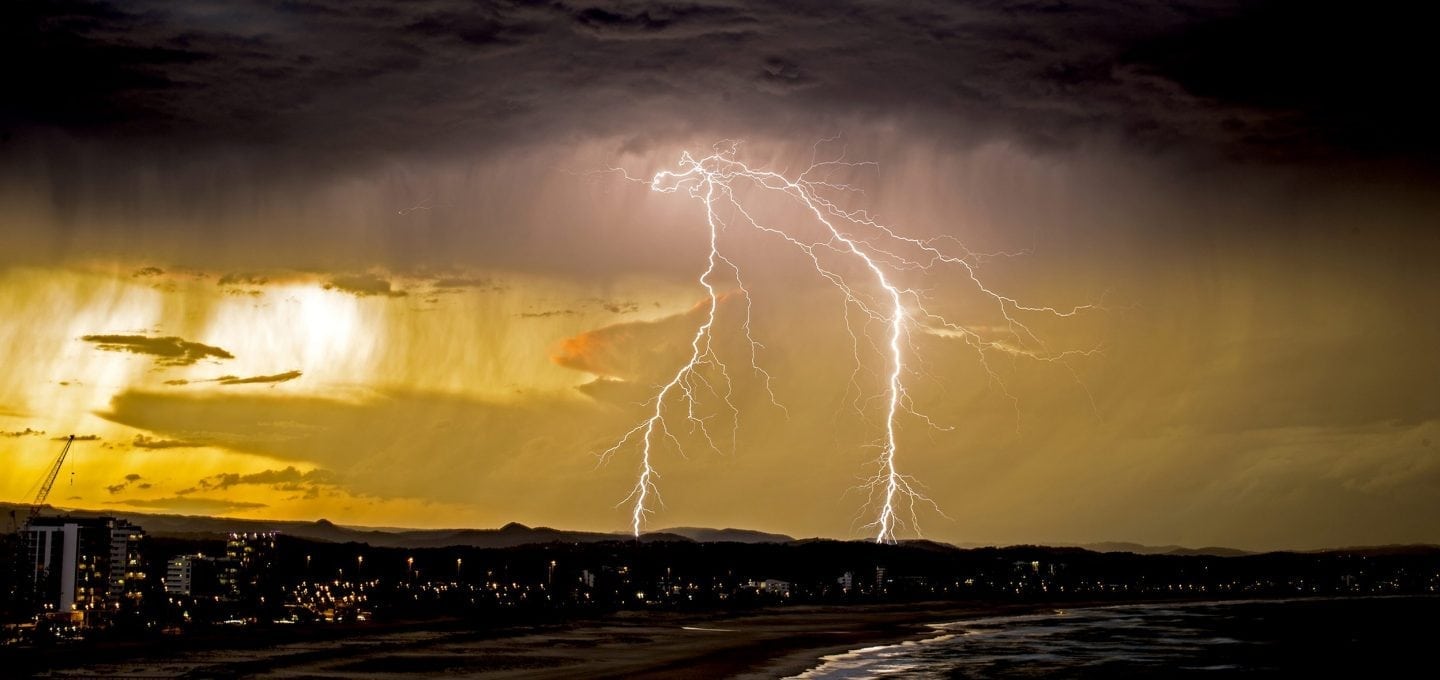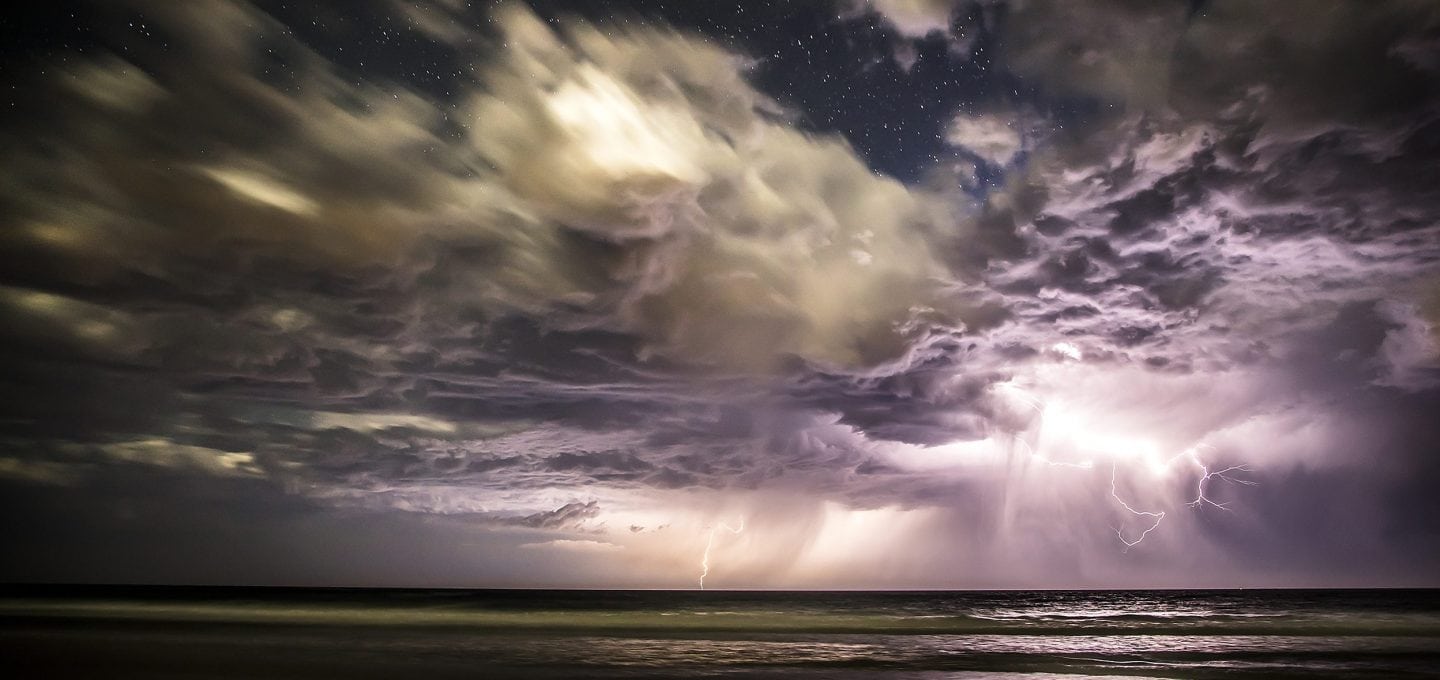 Oranges and purples offered a final flurry of colour as the sun moved beyond the arc of here and there. Now it was just me and the storm beneath an ever-blackening sky. Twilight quickened, squeezed out by the billowing bodies of water that brought heaven that little bit closer to land. As the storm hit Moreton, darkness reigned.
With the storm overhead, I hopped back into my 4×4 and made for the east side of the island, where I would be able to watch the storm move out to sea. Moreton's 'roads' are a series of 4×4 tracks, making night-time navigation a tricky feat. My headlights illuminated sand and scrub as the wipers did their best to keep my screen clear long enough for me to make sense of what lay ahead. One wrong turn, one misplaced wheel and I would miss the storm's ocean encore.
I made it, arriving at a suitable spot in the dry – the storm was out at sea already, but still photographable. The light show continued, bright bursts of lightening illuminating the night sky like far-off explosions. With distance came clear sky, breaking through dissipated clouds like great ships through mist. Stars revealed themselves, thousands of them, bringing another kind of light to Moreton. Dry enough to create long exposures, I was able to capture the dwindling storm beneath the vanguard of stars, the bringers of tomorrow's clear day.
Chasing storms across Moreton is thrilling and fun. Often though, despite weather channels and data suggesting otherwise, they fail to materialise, fizzling out inland, never reaching the ocean. But there's a place that offers almost guaranteed ocean storms, a hallowed place of thunder and lightning. Some refer to it as the storm capital of the world, and I understand why. The Kimberley area of North West Australia has a long wet season, hot and humid. During this period, thunderstorms are forecast on an almost daily basis, making it a great spot for watching and photographing ocean storms. It is a place of magic.
Creating images of ocean storms is, for me, a critical part of capturing the mood of our world's beautiful coastlines. It is an exciting part of coastal photography, a thrilling combination of colliding elements.
Sea stories
Beautiful ocean stories straight to your inbox.
Join our community.