Conservation
Earthly remains
Words by
Ed and James Harrison
Words by
Ed and James Harrison
"We found ourselves wrestling with the desire to do something effective for these endangered animals, something to diminish our own sense of tragedy and depression."
Brothers Ed and James Harrison have combined their creative skills for good with their venture Under The Skin, which sees Ed's illustrations of endangered animals beautifully screen-printed (by James) with a hidden phosphorescent skeleton. These extremely limited edition prints are created in the name of raising funds and awareness for collaborating groups, which have included the likes of Sea Shepherd, the Bornean Sun Bear Conservation Centre, Pandas International and the David Shepherd Wildlife Foundation, among numerous others. We catch up with them both to find out more about their work.
Oceanographic Magazine (OM): When did you both first connect with the ocean?
James Harrison (JH): I've lived near the ocean for as long as I can remember. Our parents decided to move from London to Swansea in 1993 when I was two. We suddenly had access to arguably the most beautiful coastline in the world. As the youngest of four boys, I am in the incredibly fortunate position to have grown up watching and learning from my older brothers, particularly through art, design and surfing.
Ed Harrison (EH): As a family, every summer we'd take a three-week camping trip down in the South of France. I'd say this is where we truly fell in love with the ocean, as this is where we got hooked on riding waves. Our thirst for riding waves continued back home in Wales. Although less convenient and consistent than France, we would constantly check the surf report, encouraging our parents to 'take the dogs for a walk' and give us a lift to whichever remote beach was breaking best that day.
OM: Was there a specific event that triggered you both to want to do something about the environment?
EH: Our connection to the ocean is what initially made us aware of some of the global environmental issues and the impacts humans were having on the planet. We've surfed amongst oil spills, witnessed an increasing amount of plastic pollution and read about surf spots and endangered animals being wiped out by industrial developments. We gradually learned of the animals and habitats that rely on healthy conditions to survive and we became aware of the wider scope of the accelerating decline of the Earth's natural life-support systems. We found ourselves wrestling with the desire to do something effective for these endangered animals, something to diminish our own sense of tragedy and depression.
JH: In March 2015 we were both injured during a ski trip in Austria. Whilst our friends were out skiing, we stayed back in the mountain lodge where we delved into a heavy conversation on global conservation issues. I had just graduated from the Glasgow School of Art and had discovered the Glasgow Print Studio, which gave me the opportunity to continue my craft of screen-printing. Ed had been working on 'Animalia Daily', a self-initiated project where he challenged himself to illustrate 100 animals in 100 days, simplifying them into geometric shapes whilst capturing their individual characteristics. We found ourselves looking through Ed's project while discussing the various reasons why endangered animals were disappearing. "I can screen-print with interactive inks – what if the skeletons were a hidden phosphorescent layer?" We looked at each other and instantly knew that this was the beginning of a powerful idea.
OM: How do you research your selected subjects and what does your creative process look like?
EH: Before illustration work begins, we do a large amount of research to understand the anatomy, behaviour, habitat, iconic body language and defining characteristics of each species. Colours to reflect the habitat. When I look at wildlife, I see exciting shapes, colour arrangements and endless possibilities for creating interesting compositions. A pencil, drafting compass and ruler are my go-to tools to for my sketching process, but I always finalise my illustrations digitally on my laptop. My aim is to capture the defining characteristics of each species in simplified straights and curves; to make up a final design of satisfying geometry and colour combinations. After the animal is complete, I illustrate the skeleton using anatomical diagrams, books and online resources for reference. This intricate layer represents the true anatomy of the animal, whilst contrasting the bold, geometric animal beneath.
OM: Why did you decide to collaborate with Sea Shepherd?
JH: They reached out to us about a collaboration. We felt it was only natural to use our skills to pay tribute to such a dedicated non-profit organisation, one that has been working on the front lines protecting our oceans for decades. The collaboration came together incredibly naturally when we pitched the idea – to develop a series of four endangered animals from the marine environment, one for each decade of their conservation work, each animal created in a limited run of just 40 prints.
EH: We'd read about the Vaquita Porpoise – the world's most threatened marine mammal, but knew little about it before beginning our collaboration. With rumours of less than 30 remaining on the planet, Sea Shepherd has been making a last stand for this endangered animal for five consecutive years. There couldn't have been a more fitting campaign to kick-start our collaboration. Last December we were given the opportunity to get a first-hand insight behind the scenes aboard Operation Milagro, their campaign dedicated to the Vaquita in the Sea of Cortéz, Mexico. We spent a week aboard the world-renowned M/V Farley Mowat getting to know the team and helping them to haul aboard the fishing nets that trap countless marine species. We also learnt the story of the Vaquita, which regularly fall prey to gill nets that are set in their habitat to illegally catch Totoaba Bass – commonly referred to as the 'cocaine of the sea' – for the Chinese medicine market. The Mexican cartel and Chinese mafia have been raging war on the Sea Shepherd crew as they patrol the waters and remove their nets – there have been attacks on the vessels with molotov cocktails and gunfire. We were relieved to find Sea Shepherd are working with the local government and had Mexican military onboard the vessel.
OM: How do you go about living simply and sustainably?
EH: We both continuously making small personal changes in our everyday routines that massively help to reduce our footprints, and this feeds into our creative design practice.  We use Fedrigoni Freelife paper for our screen-printed artwork, which is carbon balanced and created in partnership with the World Land Trust. We strip back any unnecessary packaging and reduce, reuse and recycle materials wherever possible. Our handcrafted approach to our work is at the heart of our values. We're focussed on quality, and we've slowed things right down. James takes weeks (sometimes months) to screen-print our limited edition artwork, with the inks mixed by hand, colour-by-colour, layer-by-layer. Everything is considered. It's a true labour of love. It's what slow design looks like. There is so much mass-produced stuff in the world – the world doesn't need more stuff.
OM: How did your experiences on board with the Sea Shepherd crew impact your thoughts on ocean conservation?
EH: One thing that struck me was the team camaraderie onboard this ship. Everyone was there for the same reasons – to save our seas. We were humbled and inspired by the crew members, who each brought their own talent and skill to the cause. It dawned on us that this tight ship is run by a crew with an amazing range of complementary skills – in effect, a team formed of multiple symbiotic relationships. It reminded me of the symbiotic relationships that have evolved in the natural world.
JH: The wealth of marine biodiversity in the Upper Gulf of California blew us away, but at the back of our minds there was a sense of unease. These awe-inspiring sightings served as a powerful reminder of the number of species residing in these waters that get caught up in the ghost nets. A human can decipher between a whale calf and a totoaba bass – a gill net cannot. The captain, Jack, set out an analogy to put the destructive power of gill nets into context. What would happen if a farmer was to set a 100-metre-long animal trap through a rich, forested woodland in an attempt to catch a single species, such as a deer? A whole wealth of species such as wolves, songbirds, red squirrels, bears, hares, and eagles would also be caught up and sacrificed as collateral damage, and it would be a public outrage. We generally don't think of fishing practices in the same way, perhaps because we don't witness the death and destruction located under the surface of the ocean. So how then can it be ethically feasible for these fishermen to cause so much destruction in an attempt to catch just one species? Witnessing these dead marine creatures becoming entangled in gill nets and hauled aboard made this very real.
OM: Do you worry about the current 'all talk and no action' state of affairs when it comes to conservation efforts by governments?
EH: There are veterans in the conservation movement who have been saying this stuff for decades – the ones who inspired us to start this project in the first place. In May the UN released an alarming report that states up to one million species are predicted to go extinct within the following decade. Of course, it's not just endangered animals that are in jeopardy from the accelerating decline of the Earth's natural life-support systems – human are too. You'd expect this to be a wake-up call for governments around the world to take action but it's still business as usual. The political debates filled with so much negativity in the way they are talking about the environmental crisis. We need our global leaders of today to approach conservation with as much enthusiasm and energy as the space race of the 1960s. We need them to see this as an incredible opportunity to regenerate our ecosystems, planting trees, cleaning our rivers, taking care of more vulnerable people, and inventing clean power technologies that will allow plants, animals, and human beings to thrive here on this magical planet.
I'm extremely frustrated by the poverty of imagination and action by the government. But we are witnessing figures from the conservation movement bringing a voice to the political debate in a way we could never have envisaged. The needle has been moved in our favour. One thing I'm trying to remind myself of day-to-day is that if we are to make the transition that we need possible then there really can't be a feeling of 'us against them'. We all need to try and see the values of other people, and honour and understand where they're coming from, then perhaps we will be able to do it.
JH: The living world around us is breaking down as a result of consumerism, and it is political. We understand that humans have always needed to rely on resources to survive, but our consumption has tripled in the past 40 years. Many of the habitats where these endangered animals live, if they haven't already been lost, are being heavily fragmented and degraded. I worry about it greatly, but we need to focus on the beauty of nature and the deep connection we have with our planet, and support life as it is sustaining us. There is hope, and it has the face of the inspiring campaigners, charities and people all over the world that dedicate their lives to protecting Earth.
OM: How do you feel now that you've been able to utilise your creativity for conservation?
JH: I feel incredibly fortunate to be able to contribute to the conservation movement through my craft. For us, Under the Skin is so much more than a series of prints – it is a creative platform to start a down-to-earth conversation about what is happening, to educate ourselves and others using the power of visual design and to inform our audience about environmental issues. By sharing our research, insights and sustainable production processes we also hope to highlight the potential that businesses have in the realms of conservation.
EH: I feel a combination of both outrage and optimism. I've spent my life going through school and art college developing my craft as a designer and illustrator with a focus on the natural world and I finally break through into the creative industry only to find we're living amidst this mass extinction event, with the endangered animals that are the source of our inspiration disappearing off the face of the earth. On the flip-side, I feel so empowered and fortunate to be in a position where I can engage others in conservation through my passion for design and illustration. Optimism is what gets me out of bed everyday. Optimism is absolutely necessary if you are to engage others in the climate crisis effectively. Our artwork is a direct reflection of these two feelings. Under the Skin is a celebration of the natural world – this is our optimism. But then the UV skeleton — the interaction that reveals the hidden anatomy of these endangered animals — this is our outrage.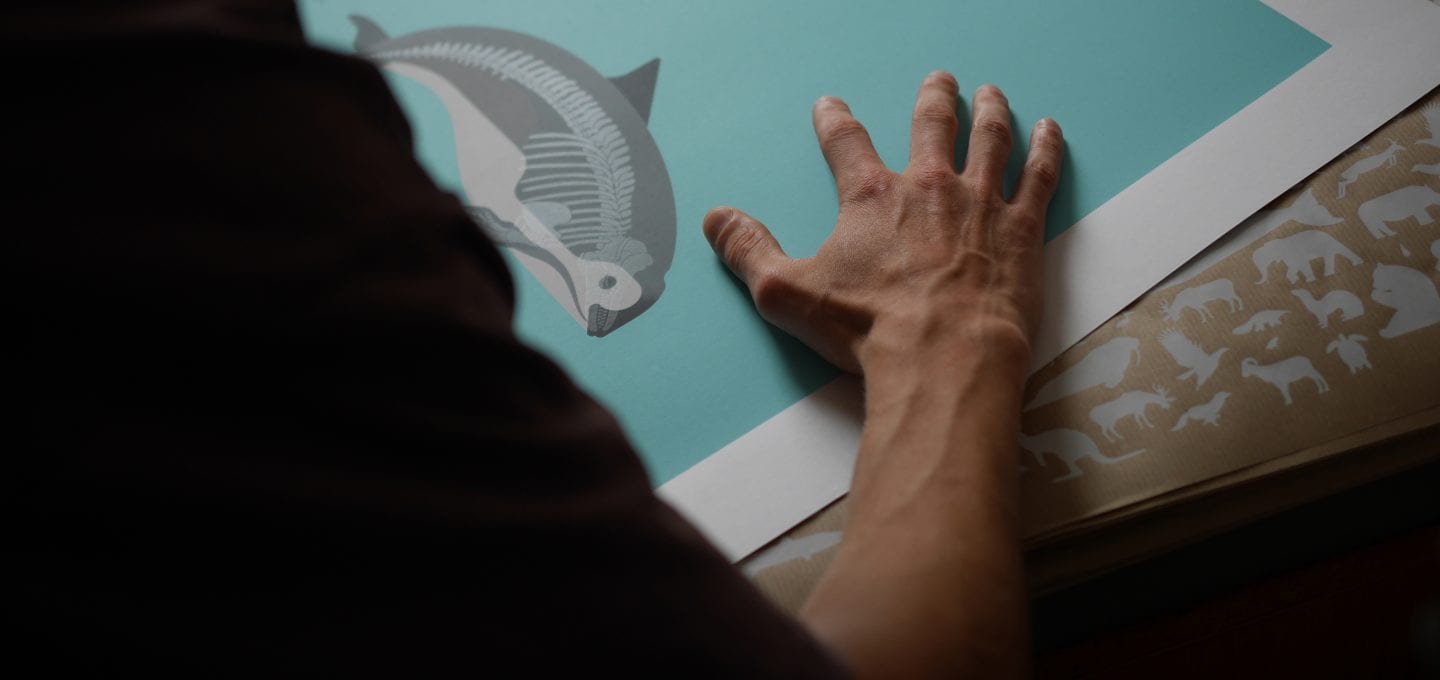 OM: What is the most important story you've told so far with your work?
JH: Historically, early explorers of the southern seas found companionship in Wandering Albatrosses during their solitary escapades. These birds would often accompany ships for days without landing on either land or water, and tales from sailors narrate that the bird would fly tirelessly in both harsh and moderate weather. They are also monogamous, which we highlighted in the design – two arching albatrosses facing one another, heads tilted towards the sky to signal their biennial courtship ritual. Yet despite the historic magical tales of these great ocean wanderers, Wandering Albatrosses are in threat of extinction.
EH: This is a fitting example, since albatrosses are another species that has been decimated by industrial fishing practices with their populations halved since the 1990's. Albatrosses are often attracted to fishing vessels in the search of their next meal but sadly, for many it's their last. As they attempt to steal the bait used by fisheries to target larger fish species, they may become caught on longline hooks and ultimately drown. We partnered up with The Albatross Task Force – an international team of seabird by-catch mitigation experts set-up by the RSPB and BirdLife International, who are on a mission to make trawl and longline fisheries safer for seabirds across the world. The interesting thing about their approach is that they are working with fishing crews rather than against them, showing the crew innovative yet straightforward ways to stop killing seabirds. And it's working. South Africa has been a shining example of how things can drastically change for the better, with an astounding 99% reduction in albatross deaths in the hake trawl fishery since the team started there in 2006.
OM: Do you think it's important that people redirect their passion/skills, whatever that may be, towards supporting a cause they care about?
EH: This is one of the key underlying messages that we aim to convey through our project, alongside raising awareness of extinction of course. What we really want to convey to people is that everyone has the capability to be a conservationist. Spending time with the Sea Shepherd crew gave us the insight that we all have the capacity to flip the switch and transition from a potentially destructive job to a positive and purposeful one. As artists and designers, we've decided to dedicate our life's work to protecting the natural world. We want to empower others to do the same, to look inward and ask themselves how they can contribute their time, unique skillset, and passion toward conservation.
JH: The vast amount of threats we are facing can be overwhelming, and it is certainly easier to ignore the increasingly alarming messages from scientists and conservationists, but we all need to work together on this. It all starts with looking inward to what we can do as individuals to help reduce our consumption, so we can preserve what little nature we have left in the world. Any action is better than no action.
Photographs by James Harrison, Luke Ripley and Max Smith.
__________
Unplug. Reconnect. 
#WhereWillYouReadYours?
Sea stories
Beautiful ocean stories straight to your inbox.
Join our community.