Adventure
A corner of the Earth
Photography by
Guy Williment
"Surfing is my non-negotiable."
In his latest film, Spencer Frost and his small team go in search of wild waves along the most breathtaking and remote coastlines of Iceland. Facing extreme elements head on, he captures the magnificence of extreme surfing and the rugged beauty of these ice and snow covered coastlines. Here, he shares his experiences.
To me, adventure means doing something you've never done before – getting out of your comfort zone. It's not all about the goal but how you make it happen even if you don't succeed at first. It's about facing challenge head on. I've been lucky enough to live close to the ocean my whole life. It really wasn't until my late teens and early 20s, when I started travelling more, that I realised just how lucky I've been. I grew up in a little surf town called Avalon Beach about an hour from the centre of the Sydney. All my very early memories are of the beach. Every weekend we'd be down at the surf and every holiday either at our local break or up the coast. As soon as I was old enough to go by myself, I was there every day. The ocean really gives me great comfort. It gives me a sense of being home. I still get in the water every day, for a surf, swim or if I'm lucky, I get to work in the ocean.
Surfing is my non-negotiable. I try to do it every single day – with the exception of having to work away from the ocean (which I do find quite hard). It's amazing for your mental and physical health – you've never heard anyone say they had a bad swim. Jumping into the water is the best refresher and an amazing way to start the day. I find creativity in surfing from trying to be as original as possible and push myself to places I've never been before. I'm constantly looking for fresh ideas and different stories to tell – and if I can somehow incorporate surfing into these then that is the goal.
For a few years, fellow photographer Guy Williment and I had been talking about heading up to the Arctic. It was never specifically meant to be a 'surf trip' – more of a sightseeing expedition to see what this amazingly beautiful and untamed place had to offer. But the more research we did, the more we kept hearing about crews that have travelled to Iceland to surf. The images from those trips were simply mind blowing. We became fixated on the idea of going on a trip ourselves with the purpose of putting this project together. We've both travelled all over the world to some of the most popular surf destinations – Hawaii, Fiji, Indonesia, South Africa ­– so we really wanted to push ourselves out of our comfort zone and do something different. It wasn't until we arrived that we realised how crazy it was up there.
I love getting out of my comfort zone, travelling, exploring and getting creative, and it seemed these trips let me do a little bit of everything. As brutal as it is sometimes, it gives me such a feeling of fulfilment and purpose. I've found that when you push yourself creatively, the universe has a strange way of rewarding the sacrifice and pain. It might not happen straight away – but sooner or later everything works out.
Once the wheels were turning and we were locked in for an extreme surfing trip with aspiring professional surfer Fraser Dovell, I had a healthy (or unhealthy) obsession with the place and the planning. I got in touch with friends of friends of friends who live there and asked them all the questions I had. Some people were super generous with their time and knowledge, others didn't reply at all, and some kindly declined giving out any information about the place, which I totally understood and couldn't feel too disheartened about. Apart from asking around for information and doing internet searches, that's about as far as we went for the planning, everything else we basically just took as it came. We asked about surf spots, weather conditions, beautiful locations to shoot, what gear to wear (out of and in the water) and even where to go shopping.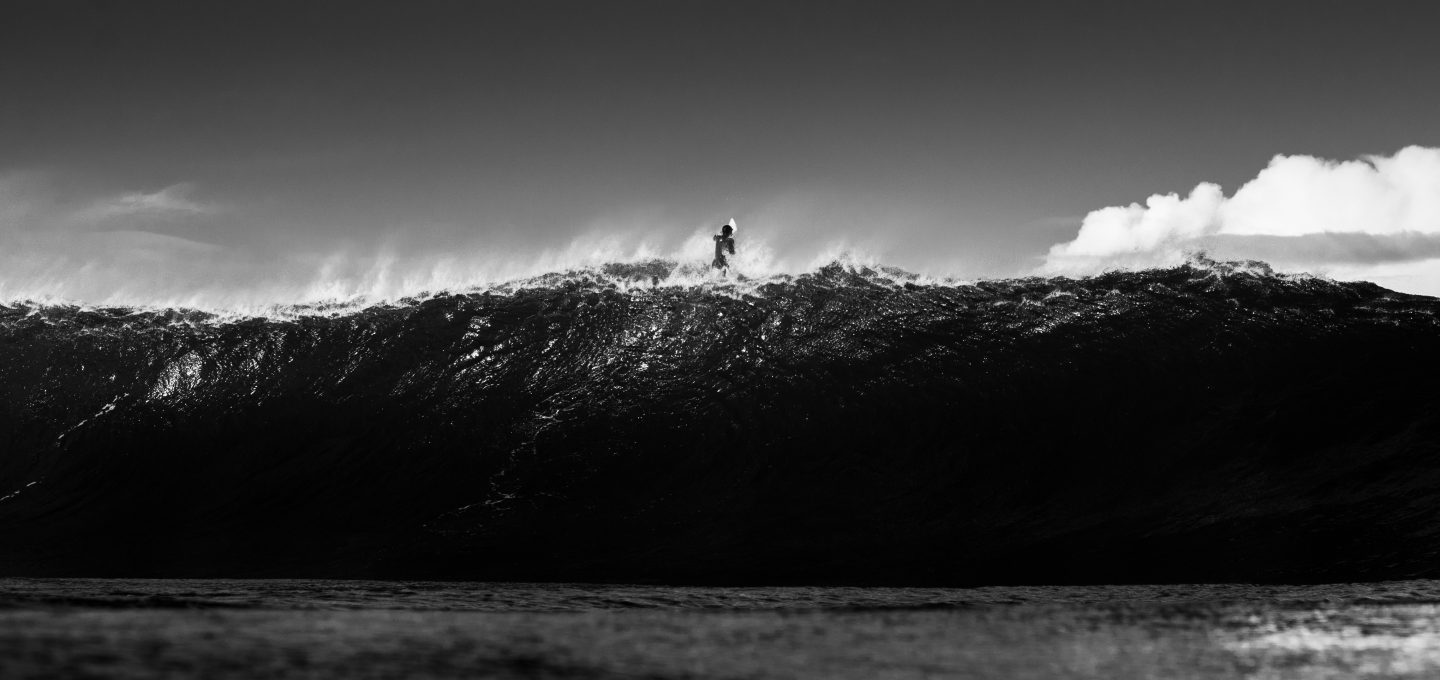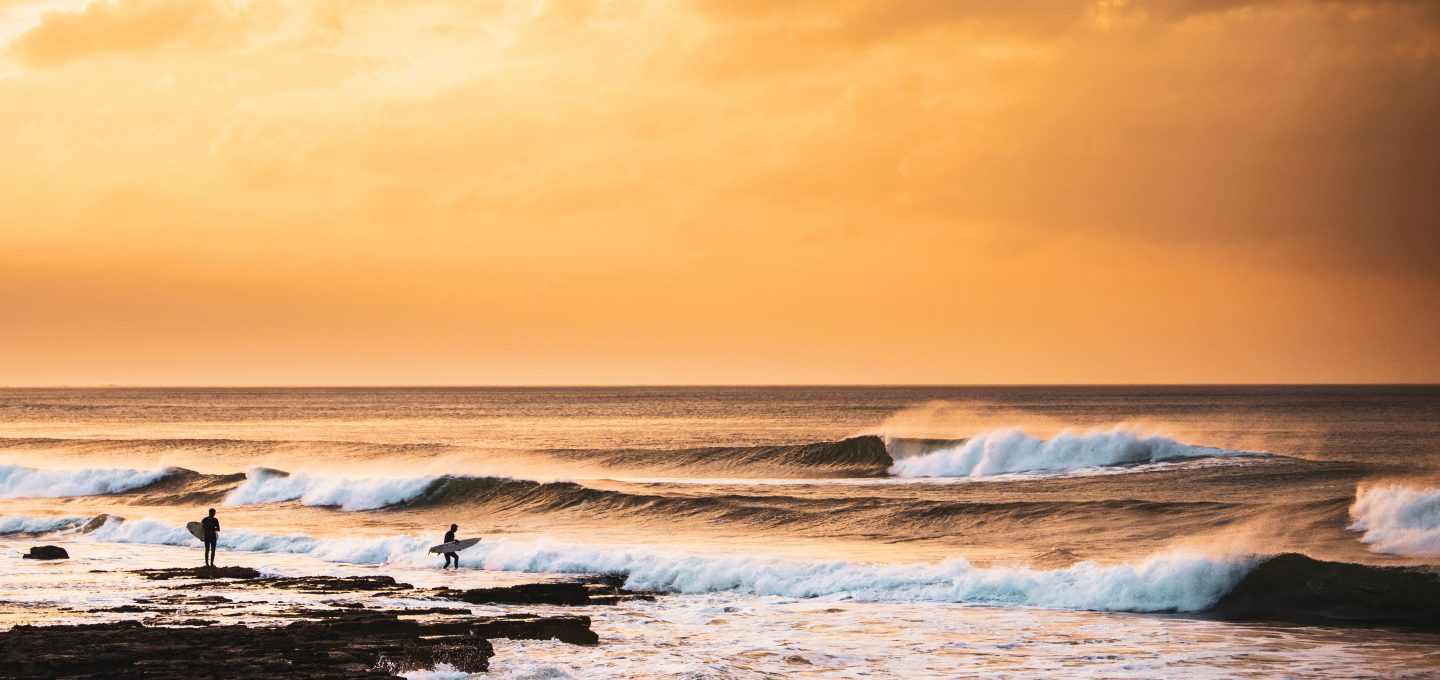 It's not an understatement to say I was totally blown away when we first arrived in Iceland. You see pictures and footage and you think you have an idea of how amazing these places will be, but once you get up there those preconceived ideas are totally thrown out the window. Five minutes out of the airport we were surrounded by blanketing snow. Freezing winds blew across the road, the air a temperature of -15 degrees celsius. After a two-hour drive on wild and rural roads, we arrived at our first night's accommodation, which was a little one-bedroom cabin overlooking a frozen lake. Later that night after dinner, Guy noticed some weird coloured clouds forming in the sky and before we knew it the whole sky was lit up like fireworks. This was our first taste of the Northern Lights – one of the most amazing displays of nature I've seen anywhere in the world.
Filming in the water was harder than I expected. We all had preconceived ideas of what it was going to be like, but even when get got our 7mm head to toe wetsuits on we had a rude shock realising how brutal it was being in the water. Fraser and Guy stayed out in the for a few hours one day and returned almost in tears, unable to use their hands or feet. But when everything did come together, and we got the opportunity to capture images for the project, those moments were priceless and worth all the frozen pain we put ourselves through. It took us three weeks to drive around the coast of Iceland chasing waves. On one very memorable day, after eight days of no surfing, we scored a beautiful right-hand point break with no-one else in sight. It was amazing, especially shooting Fraser tearing that wave to shreds surrounded by the snow-covered mountains.
Mixing up aerial, above water and underwater styles of filming helps me examine the ocean from all angles. I think I'd go crazy just standing on the beach filming for hours on end every single day. I need a fresh perspective to keep me creative. When I really want to be a part of it, I'll jump in the water and film – this is such an epic way to be at one with nature, sharing the froth with your mates and also getting some unique shots people wouldn't usually see. For aerials – that's another unique angle I love to incorporate in these projects. It's such a good way to establish a location – to set a scene and give people a stronger idea of the breadth of the landscape or seascape. For this project it showed the majesty of the place and how remote it was.
This was Fraser's last big extreme surfing adventure before starting university full-time. He had been an aspiring professional surfer, and was picked up by Ripcurl as a teenager as one of their upcoming team riders and competed on the junior series for a number of years. He won the National Championships, but after a few years grinding it out on the comp scene he decided that competing wasn't for him anymore. I think competitive surfing has its place for the right people. Some people thrive under the pressure of competing. But for others it's a slippery slope and really takes its toll on their mental health. Fraser was done with professional surfing. After a few years running around the world, he made the tough but inspiring decision to quit and begin "real life" commitments, which I think is something a lot of people have to do when finding their feet in the world. At some point you have to say, 'enough is enough'. Once you lose the love for it, it might be time to make a change. I think more than anything I wanted to tell the honest story of giving up on dreams, going on a life changing trip and then discovering new aspirations in life.
The whole trip was an emotional roller-coaster from start to finish. We were constantly kept on our toes and felt like we were always treading on thin ice (literally and figuratively) waiting for something bad to happen. I guess that's the beauty of a trip like this – it's so unpredictable. Some days we would wake up and the storms would be so bad we couldn't leave our cabin. Another day there was an avalanche and we couldn't drive along the coast road to surf a wave that we knew would be on that day. We had cameras stolen, crashed drones, flooded housings, corrupt hard drives, our car slid off the road, and dangerously, our car battery went flat in the middle of the night during a blizzard. It felt like almost everything that could go wrong did go wrong (fortunately we all remained well and unharmed) – but on the flip side of that, this trip gave us all some of the most memorable experiences of our life. I wouldn't take back a thing.
A Corner of the Earth was featured in the 2020 Ocean Film Festival. To find out more, click here. Watch the trailer:
Photography by
Guy Williment
Sea stories
Beautiful ocean stories straight to your inbox.
Join our community.