Reconnection
Issue 06
See how Hanli Prinsloo reconnects young minds with an underwater world full of intrigue, adventure and hope / Learn more about the pivotal role that Pacific herring plays in the health of Canada's west coast / Meet the rangers who protect Costa Rica's Cocos Island National Park / Experience an Arctic classroom / Find out how sustainable tourism can protect Palawan / Join a former shark fisherman who now protects thresher sharks on the island of Malapascua
£10
Sold Out
a journey from fear to love
For many people in South Africa, particularly those from poorer urban areas, the ocean is a place of fear. Reconnecting young minds with an underwater world full of intrigue, adventure and hope has become, for Hanli Prinsloo, a life's mission.
FIGHTING FOR THE FUTURE OF CANADA'S WEST COAST
Pacific herring plays a pivotal role in the health of Canada's west coast. Four of British Columbia's five herring stocks have collapsed due to overfishing. Campaigners are now battling government and industry to save the coastline's last viable stock.
THE RANGERS OF COCOS ISLAND
Costa Rica's Cocos Island National Park is regarded as having one of the world's most pristine underwater ecosystems. Sea Shepherd visited the island to better understand the important conservation work being undertaken by the island's small team of rangers.
AN ARCTIC CLASSROOM FOR A CHANGING PLANET
Engaging children with the fragility of our changing planet can be a challenge. The team at Encounter Edu are bringing science to life by broadcasting live from expeditions to classrooms across the world.
PROTECTING PALAWAN
Tourism can be destructive. It can also be transformative. In Palawan, one ethical tour company is harnessing sustainable tourism to create jobs, support communities and improve living standards. It is also reducing the prevalence of dynamite fishing. 
REHABILITATION OF A SHARK FINNER
Few shark conservationists will have once been dynamite fishermen who made a living from finning sharks. On the island of Malapascua, one ex- fisherman now spends his time guiding thresher shark dives and working to protect the species.
behind the lens (in association with sealegacy)
Each issue, we chat with one of the world's leading ocean photographers and showcase a selection of their work. In this edition, we meet polar regions photographer and BBC Wildlife Photographer of the Year judge, Daisy Gilardini.
Columnists:
Marine biologist Dr Simon J Pierce, 

Principal Scientist at 

the Marine Megafauna Foundation, discusses the wonder of seal whiskers

.

Big wave surf champion, environmentalist and social change advocate Dr Easkey Britton talks about the importance of blue spaces for both physical and mental wellbeing

.

Shark ethologist Ocean Ramsey, reflects on the importance of maintaining a healthy respect and distance when interacting with sharks

.

The team at Project AWARE Foundation

, 

Oceanographic's primary charity partner, l

ook at the positive impacts Dive Against Debris data has had, and is having.
All orders shipped from the UK. Postage prices vary depending on shipping destination. EU customers may have to pay an additional customs charge. Please note that non-UK delivery times vary. While most international deliveries take 1-2 weeks, in the most extreme cases we have seen (though very rare) delays of 8 weeks+. If you would like to avoid the times and costs associated with shipping you may wish to explore our Digital Ocean Hub subscription.
A taste of what´s included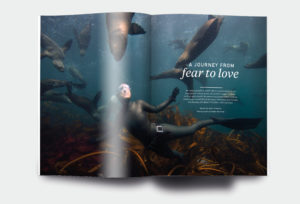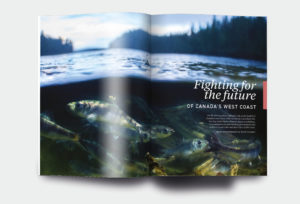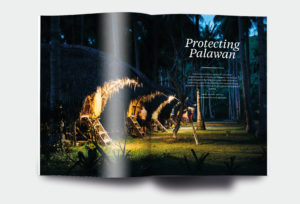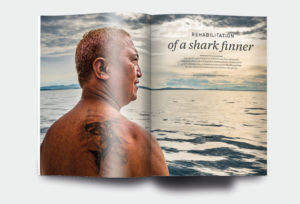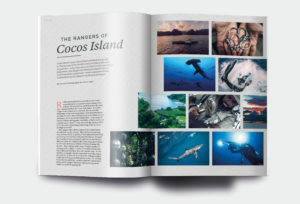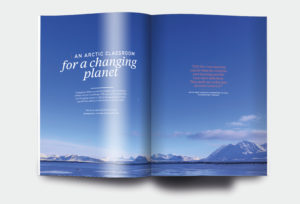 Learn more about the magazine
Oceanographic Magazine uses beautiful photography and captivating storytelling to transport both the wonder and plight of the ocean into people's homes. It is a magazine that aims to bring our blue planet to life, to connect and inspire.
About the ocean. For the ocean.
Read more

about magazine