Interpreting whalesong
Issue 10
Understand

whalesong /

Meet

Kokoly, a fisherwoman who relies on the ocean to live /

Find out

whether luxury tourism is changing by visiting the private Caribbean island of Mustique /

Travel

to the remote island of Suluan in the Philippines where a movement of women are leading the drive towards renewable energy /

See

how two young architects refit a decommissioned lifeboat for an ocean adventure
£10
Conversations with friendS
After a life-changing encounter with a pod of sperm whales, one man has dedicated his life to the pursuit of understanding whalesong – a journey that has been as much about hard data as it has been about the question of consciousness.
kokoly: fishing for a future
Like millions of fisherwomen around the world, Kokoly relies on the ocean to live, as both a source of income and nutrition. With fish stocks depleted and vibrant reefs turned to rock, Kokoly's life is now one of survival.
the balance of things
For some, the ocean is an everpresent part of their existence, perhaps even identity. For others, it is a distant and unknown expanse, never seen or felt or smelled. For one girl brought up in Italy's Po Valley, the ocean was a near-mythical obsession – then she saw it for real.
fork in the road
The private Caribbean island of Mustique, known largely for its luxury and excess, is embracing sustainability. Is luxury tourism changing?
suluan's solar revolution
The tiny, remote island of Suluan in the Philippines, was the first to be hit by deadly typhoon Haiyan. Now, a movement of women – survivors and island protectors – are leading the drive towards renewable energy in a community deeply connected to the sea.
upcycled adventure
Two young architects refit a decommissioned lifeboat for an upcycled – and stylish – ocean adventure. Leaving the south coast of the UK behind, they head for the west coast of Norway – just themselves, the ocean and their dog Shackleton.
behind the lens (in association with sealegacy)
In a special edition of Behind the lens, we take a collective look at the photographers featured throughout 2019 and showcase some of their beautiful work not previously featured, along with some of their most powerful words.
Columnists:
Big wave surf champion, environmentalist and social change advocate Dr Easkey Britton discusses meeting the people behind – and surfing on – the Cigarette Surfboard, and how powerful stories can result in positive action.

Freediver and founder of I AM WATER, Hanli Prinsloo, discusses the importance of connecting young children with the ocean – particularly in communities that, due to inequality, view the sea as a place to poach rather than protect.

Dr Simon Pierce, Principal Scientist at the Marine Megafauna Foundation, discusses the astonishing beauty and biology of thresher sharks.
Magazines & books: All orders shipped from the UK. Postage prices vary depending on shipping destination. EU customers may have to pay an additional customs charge. Most international deliveries take 1-3 weeks. Want to avoid shipping? Explore our Digital Ocean Hub subscription. Any orders fulfilled by a third party are subject to that party's shipping T&C's.
A taste of what´s included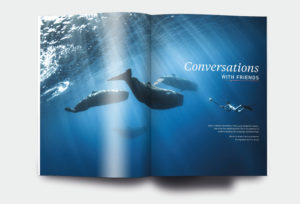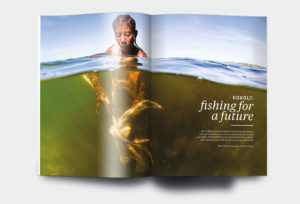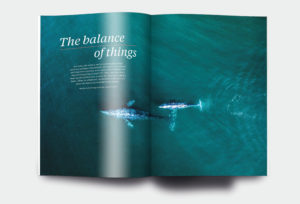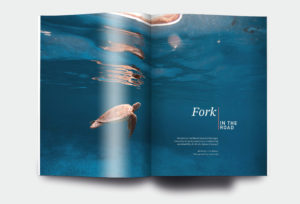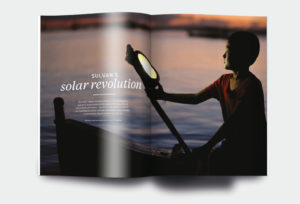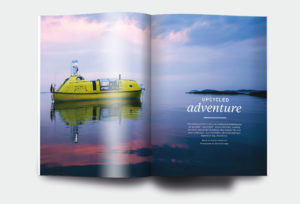 Learn more about the magazine
Oceanographic Magazine uses beautiful photography and captivating storytelling to transport both the wonder and plight of the ocean into people's homes. It is a magazine that aims to bring our blue planet to life, to connect and inspire.
About the ocean. For the ocean.
Read more

about magazine