Print only
Traditional subscription
The classic print subscription. Get your magazines delivered direct to your door. Comfy sofa, cup of tea... perfect!
£40
For just £5 more you can upgrade to a Premium Ocean Hub subscription
where alongisde your printed magazines you'll have digital access to EVERY edition of Oceanographic ever published, as well as access to a range of other products, services and discounts exclusive to Ocean Hub.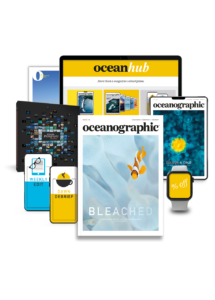 Upgrade
Annual print subscription (six magazines per year)
All orders shipped from the UK. Postage prices vary depending on shipping destination. EU customers may have to pay an additional customs charge. Please note that non-UK delivery times vary. While most international deliveries take 1-2 weeks, in the most extreme cases we have seen (though very rare) delays of 8 weeks+. If you would like to avoid the times and costs associated with shipping you may wish to explore our Digital Ocean Hub subscription.
Learn more about the magazine
Oceanographic Magazine uses beautiful photography and captivating storytelling to transport both the wonder and plight of the ocean into people's homes. It is a magazine that aims to bring our blue planet to life, to connect and inspire.
About the ocean. For the ocean.
Read more

about magazine