Print only
Traditional subscription
The classic print subscription. Get your magazines delivered direct to your door. Comfy sofa, cup of tea... perfect!
£40
For just £5 more you can upgrade to a Premium Ocean Hub subscription
where alongisde your printed magazines you'll have digital access to EVERY edition of Oceanographic ever published, as well as access to a range of other products, services and discounts exclusive to Ocean Hub.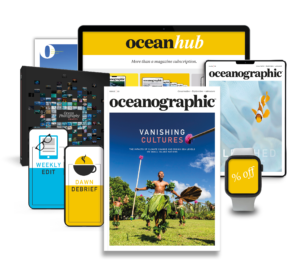 Upgrade
Annual print subscription (six magazines per year)
Magazines & books: All orders shipped from the UK. Postage prices vary depending on shipping destination. EU customers may have to pay an additional customs charge. Most international deliveries take 1-3 weeks. Want to avoid shipping? Explore our Digital Ocean Hub subscription. Any orders fulfilled by a third party are subject to that party's shipping T&C's.
Learn more about the magazine
Oceanographic Magazine uses beautiful photography and captivating storytelling to transport both the wonder and plight of the ocean into people's homes. It is a magazine that aims to bring our blue planet to life, to connect and inspire.
About the ocean. For the ocean.
Read more

about magazine