CELEBRATING THE PHOTOGRAPHY OF CRISTINA MITTERMEIER
This 'Behind the lens' is taken from Issue 02 of Oceanographic Magazine. Available as a back issue, readers can still experience Cristina's beautiful photography in print here – there's nothing quite like it.
For those content with digital, we hope you enjoy the below – a captivating interview with Cristina along with some of her finest ocean imagery. Best enjoyed digitally on desktop (please ensure you use Full Screen mode), if you are reading this on mobile or tablet you can also access it here via Issuu.
Did you know? Cristina is one of seven world-renowned judges on the panel for this year's inaugural Ocean Photography Awards. With more then £500,000 worth of prizes and career-changing opportunities from SeaLegacy, if you're an ocean photographer you'll want to check it out. 
In the meantime, we hope you enjoy Cristina's 'Behind the lens':
//e.issuu.com/embed.html?backgroundColor=%232c2c2c&d=cristina_mittermeier_-_btl&hideIssuuLogo=true&u=oceanographicmagazine"
Explore the current issue
Beautiful photography. Captivating storytelling.
Take a look inside the latest issue of Oceanographic Magazine.
DIGITAL SUBSCRIPTIONS
Subscribe to the digital edition for just £20 a year, or enjoy it for free courtesy of Oceanographic's partnership with Marine Conservation Society. No cost, no catch.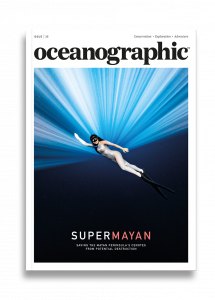 Sea stories
Beautiful ocean stories straight to your inbox.
Join our community.