Adventure
Chasing lightning
Baja California boasts some of the most biodiverse waters in the world, hosting a variety of migratory species throughout the year. As a result, it has become a hotspot for sportfishing, but at what cost?
Words & photographs by
Jay Clue
Words & photographs by
Jay Clue
It's a cool autumn morning and the warm rays of Baja sunshine are just beginning to dance over the horizon, illuminating the grey sky with splashes of orange and pink. Our guests are huddled up in their hoodies scanning the water as we speed across the glassy bay heading for open ocean. As the anticipation builds the electricity is palpable. Our group this week has traveled from all over the world to be here. To wake up in a small Mexican fishing village and be led 20+ miles offshore in a small panga by a shark conservationist, an ex-fisherman turned eco-tourism captain, and a tattoo-covered adventurer and photographer.
Tell-tale signs of the battle we are in search of are on the horizon – flocks of magnificent frigate birds hovering above the action like pirates ready to swoop in and loot the sea for the breakfast. We quickly put on our wetsuits and masks to get ready to jump. I can already see fins cutting through the water. Our captain Melecio, yells 'Vamonos!' and we slip into the water. As the bubbles clear, the frenzied scene is unravelling so rapidly before us that I feel as if time itself has slowed to accommodate their turbulent movements. 
Shards of silver explode just in front of us, then reform into gigantic brilliant metallic bait balls. The fish look like liquid metal twisting and bending across the deep blue backdrop of the Pacific Ocean. Within the blink of an eye we are surrounded by them. As they come into focus the fear on their faces kicks me back into reality. They are being hunted by one of the oceans fiercest predators and we are currently surrounded by more than 30 of them. But there's no time to contemplate our decisions now. Two-metre-long, sword wielding warriors are ripping through the waters around us at lightning fast speed. Their telltale stripes ignite flashes of neon blue before they dart back into the shimmering bait ball, smashing it into shards. I feel no danger. It is as if we've been welcomed into the hunt. 
Streams of bubbles burn off their long slender body giving the impression of underwater rockets. They have a form evolved for speed. Pure muscle capped off with a sword-like bill and a large crescent shaped fin on the other, delivering enough torque to propel them to 50+ miles per hour. A large sail-like dorsal fin supplies these apex predators unbridled agility and control. These are the annual hunting grounds of Kajikia audax, the Striped Marlin. 
Packs of sea lions rest on the outer edges waiting for their turn to join in. They rocke into the hunt the moment the marlin stand down. It is an incredible behaviour to witness. Mammal and fish cooperatively hunting together. Pods of dolphins chasing a scattered ball of silver are seen passing by as their whistles and clicks echo through the water. A mako shark circles in the distance, staying safely away from the madness. A fin whale slowly cruises below, turning to its side to look up towards us, curious of the commotion above. We spend our entire day trying to keep up with the frantic sardines and mackerel. It is an experience unlike anything else on Earth. Pure adrenaline mirrored by the beauty and peacefulness of the deep blue ocean meeting the stark desert landscapes of Mexico's Baja California Peninsula. 
Bahia Magdalena, or Mag Bay as it's affectionately called, is one of Baja's unique natural gems. It is a land of true contrasts. A gigantic shallow bay edged with rocky and mountainous barrier islands. Flowing white sand dunes meet the lush green mangroves that play a vital role in this local ecosystem. The marine landscape is teeming with life. Pods of dolphins can regularly be seen cruising the bay and searching the mangroves for snacks. Groups of sea lions can be found lounging on buoys and beaches. In winter, grey whales journey here to give birth and raise their young in the protected waters of the bay. It is also an important fishing grounds for crabs, octopuses, oysters, clams and numerous other species. Above water, it is an area loved by bird watchers that come from all over the world to see its unique inhabitants, from bald eagles to osprey, alongside the numerous species that call the mangroves home. On land, packs of coyotes can be seen roaming the desert landscape.
Continue reading...
To continue reading this article – and enjoy full digital access across Oceanographic – sign up to Ocean Hub today! More info below…
Keep reading by signing up for an Ocean Hub subscription
Ocean Hub. More than a magazine subscription.
As well the delivery of all new editions, members unlock access to exclusive products, services and discounts, as well as EVERY digital back issue we have published.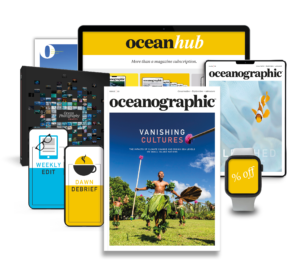 Find out more

about Ocean Hub subscription
Shop window
current issue
Back Issues
Enjoy so much more from Oceanographic Magazine by becoming a subscriber.
A range of subscription options are available.
Sea stories
Beautiful ocean stories straight to your inbox.
Join our community.