The grey reef sharks of Fakarava Atoll in French Polynesia are remarkable and numerous. Explorer Laurent Ballesta first encountered them in 2014 during his Gombessa II mission. Intrigued by their behaviour he has returned every year since, including for Gombessa IV in 2017. What has he learned?
Photographs by
Laurent Ballesta
As night fell, Laurent Ballesta headed for the abyssal drop-off at the edge of the reef. He preferred the thought of spending the hours of darkness in the black waters of the deep ocean than in Fakarava Atoll's shallow southern channel, where hundreds of frenzied grey reef sharks gorged on camouflage groupers.
When Ballesta had started his 24-hour solo dive earlier that day, forward-rolling into French Polynesia's warm waters beneath a blazing sun, he hadn't anticipated leaving the 30-metre-deep coral-clad channel. He was there to observe the aggregation of some 18,000 camouflage groupers for a full 24 hours, which meant staying with them in the pass throughout the night.
Such a lengthy period of time with the fish represented a significant opportunity for behavioural observation. The groupers had gathered in the pass to mate, as they do every year, but beyond the keys facts regarding their two- week aggregation period and the brevity of the spawning itself – just 30 minutes – very little was known about the event. Marine biologists on standard open-circuit dives typically have about an hour in the water at a time. That's not much time for observation and offers very little chance of witnessing the spawning event directly. Ballesta had joined the groupers for a full day and night to watch for spawning cues and clues, to learn as much as he could about their behaviour and, just maybe, see something rare and remarkable.
As the sun disappeared over the horizon, Fakarava morphed into an altogether different place from that which Ballesta had encountered during the day. The sharks that had been asleep in the pass during the hours of daylight, gently swimming against the mellow current between lagoon and open ocean, had awoken to hunt. The frenetic activity of predators and prey quickly became unnerving. Ballesta needed space. Moving on the same current that would sweep grouper eggs and semen out to the open ocean in the coming days, he moved away from the chaos – bumped by sharks as he went – and out of the pass. Ballesta and his team knew, of course, that the sharks would be more active at night; it was the scale and manner of hunting activity that came as a surprise. As unsettling as the shark activity was, Ballesta, as a filmmaker and biologist, found it fascinating – he hadn't seen sharks behave in such a way before. It seemed to him as if they were hunting in packs. However, 2014's Gombessa II mission – backed by long-term supporter Blancpain through its Ocean Commitment programme, an initiative that has so far funded five Gombessa missions and helped protect a staggering 1.2% of the planet's ocean – wasn't focussed on Fakarava's sharks.
"We were not there for the sharks," says Ballesta. "For my entire career to that point, I had always avoided shark stories. There are hundreds of shark films and, most of the time, they are the same. Sharks are fascinating, of course, but my focus is – and always has been – on what's new. What can I bring in terms of science, diving challenges or wildlife images and filmmaking that hasn't been done before? When I heard about this huge aggregation of camouflage groupers – everybody was saying thousands of them gathered at Fakarava for one or two weeks every year to mate, but nobody had really seen the spawning – it seemed a real wildlife challenge."
Fakarava's grouper aggregation also represented a compelling enough reason to take on another challenge he had dreamt about for a long time: the 24-hour dive. Fakarava's southern channel – calm, shallow and full of biological mystery – was the perfect place for him to test himself and spend a day underwater, a feat of human endurance in the name of behavioural science and wildlife photography.
"Time at depth with the groupers was a precious thing, and would offer me an opportunity to watch the aggregation like no one had before," says Ballesta. "By doing a 24-hour dive, I would have the time to observe the fish more deeply. Our hope was that by studying grouper behaviour over a longer period of time we might be able to better understand when they would spawn."
The completion of 24 hours underwater made Gombessa II a huge success regarding the dive objective, though Ballesta didn't spend as much time observing the grouper as he had anticipated because of the shark activity and his subsequent escape to the sanctuary of the open ocean. "According to our GPS data," says Ballesta, "I swam 21 kilometres that first night, simply because I didn't want to stay in the middle of the channel. When I stayed still for just a few minutes suddenly 10, 20, 50, 100 sharks or more surrounded me. So I spent my time on the move. By swimming I kept the number of sharks around me to about 20. I just was not confident enough to spend twelve hours alone with those sharks."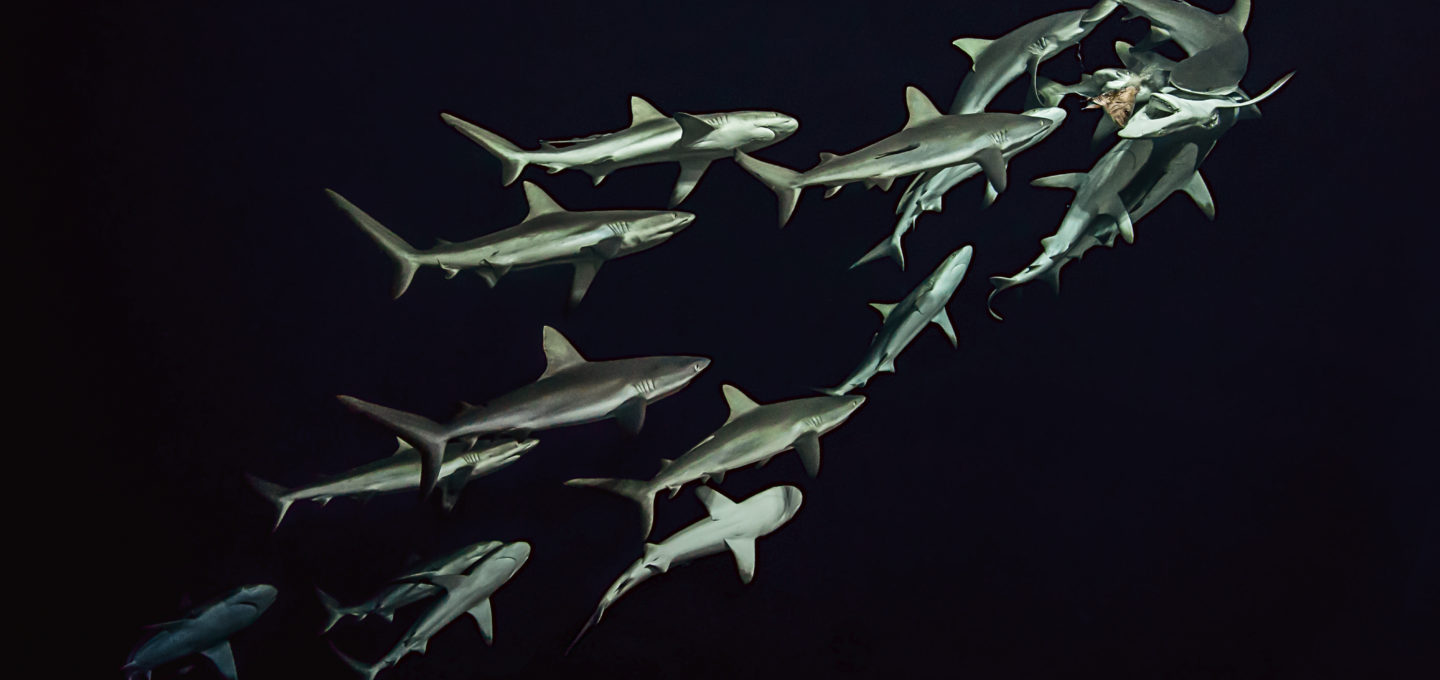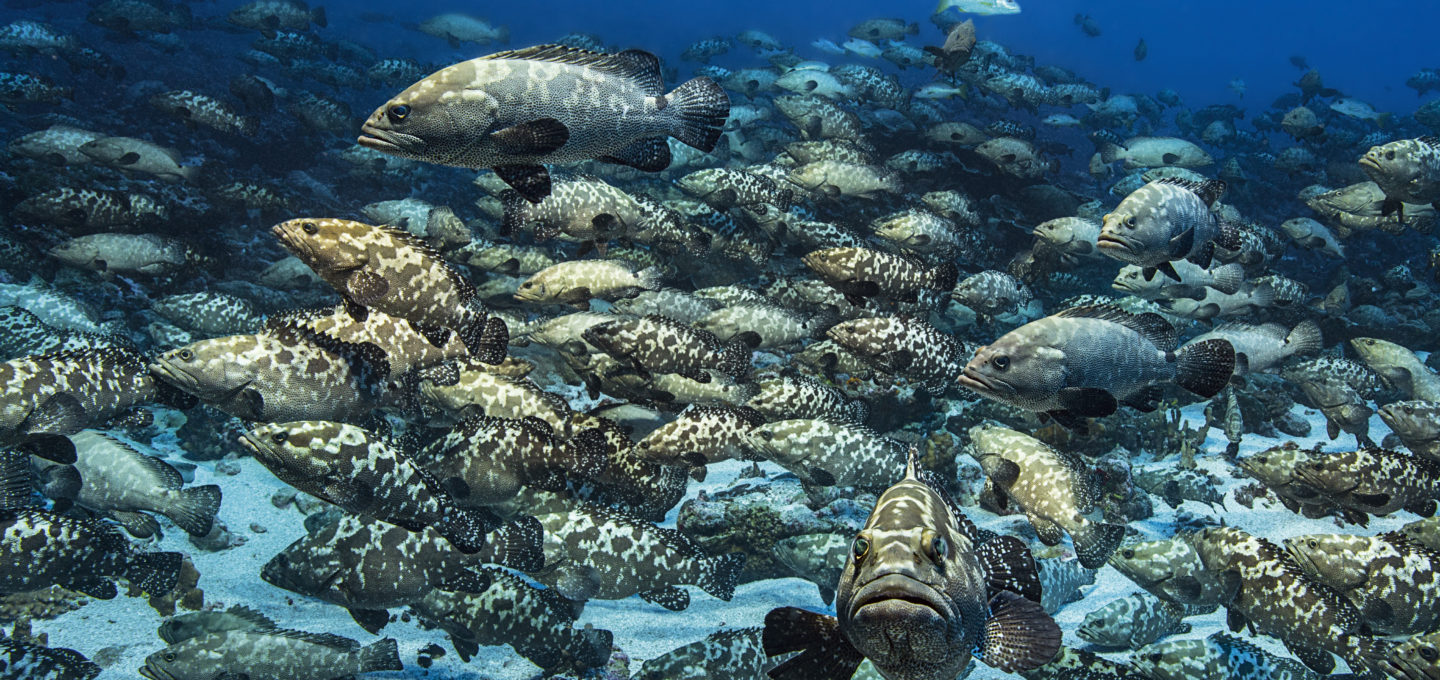 There are a lot of sharks in Fakarava. As the grey reef sharks rested in the southern channel during one of the mission days, Ballesta and his team counted 705 individuals. While that figure is known to drop to around 300 at other times of the year, the top end number makes the channel, which is about the size of two or three football fields, home to the highest density of grey reef sharks in the world. But what makes Fakarava's channel particularly unusual, beyond the sheer number of sharks present, is that the sharks do not move on at night to hunt, as is the case in most channels. The reason for this is the current. In most channels strong currents make it difficult for coral to grow, with water rushing from lagoon to open ocean at too fast a speed.
No coral means no fish, which in turn means no sharks. In Fakarava's southern pass the currents are relatively slow due to the fact that the north channel is much larger and takes much of the tidal pressure. This has allowed coral to grow, which has created a vibrant and healthy ecosystem. With plenty to hunt in the southern channel, there is no need for the sharks to leave in search of food. During grouper spawning season, when the prey biomass swells, things get particularly busy, as Ballesta experienced first-hand.
Following the completion of the 24-hour dive, Ballesta returned to the water every night during the rest of the Gombessa II team's time in French Polynesia, though gladly joined by other divers on those occasions. The team were fascinated by the 'pack' behaviour Ballesta had experienced on that first dive. Although the team were only in the water for an hour or so at a time, they became increasingly accustomed to the sharks' behaviour. Eventually, after creating and then disregarding a number of 'shark interaction rules' after each dive – ideas around diver safety, such as optimum distance from the seafloor – the team realised that being in the water with the sharks at night was a lot safer than Ballesta had initially thought. "We realised it wasn't risky," he says.
From a scientific perspective, the ability to get close to such a sizeable population of sharks was exciting. But while the team felt increasingly comfortable in the water with the sharks, additional visits to the site were required to fully ascertain the scope of the science on offer. Gombessa II had been productive – alongside the 24- hour dive and the discovery of the extraordinary density statistic the team also attached acoustic transmitters to two grey reef sharks and seven groupers, collected genetic samples and deployed three acoustic receivers in the area, including one in the southern pass and one in the lagoon – but there were a number unanswered questions and, importantly for Ballesta, incomplete challenges.
"We were getting more confident with the sharks and more full of belief in the power of the science that could be collected," says Ballesta. "We had a lot of ideas, things to investigate. It looked like the sharks were coordinating, working together in pairs if not in larger groups. It looked to us that they were using other species of shark to flush out prey from the reef. Grey reef sharks can't swim backwards and cannot therefore access areas of the reef where fish typically hide, but the smaller white tip coral reef shark can access those areas, and it appeared that groups of grey reef sharks were staying just above the coral reef sharks in order catch prey that darted from those sharks' attacks."
Photographs by
Laurent Ballesta
Continue reading...
To continue reading this article – and enjoy full digital access across Oceanographic – sign up to Ocean Hub today! More info below…
Keep reading by signing up for an Ocean Hub subscription
Ocean Hub. More than a magazine subscription.
As well the delivery of all new editions, members unlock access to exclusive products, services and discounts, as well as EVERY digital back issue we have published.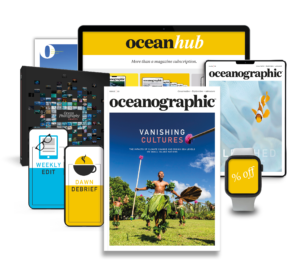 Find out more

about Ocean Hub subscription
Shop window
current issue
Back Issues
Enjoy so much more from Oceanographic Magazine by becoming a subscriber.
A range of subscription options are available.
Sea stories
Beautiful ocean stories straight to your inbox.
Join our community.