Conservation
This is Hvaldimir
On a day like any other, a tame beluga whale suddenly appeared in Norwegian waters wearing a harness, creating headlines around the world. While the mystery of his origins has since faded from public interest, the heated debate of how best to protect him continues.
Words by
Hugh Francis Anderson
Photographs by
Fred Buyle
Words by
Hugh Francis Anderson
I am being watched. From the water behind me, a fierce gaze burns into my back. The first light of day dances off the spindrift, whirling atop the mountains across the fjord. I turn instinctively, scrutinising the water. The snow beneath my deep-soled boots crunches, compacting into the dock as I turn to look. A glimmer of white glides beneath the surface and is then concealed. A splash. A spray. The deep inhalation of air. And then I see him. His head breaks the surface; his neck craned in my direction. The sheen of light-infused water passes over his white flesh. The darkness of his enquiring eyes. We are two beings that appear to be disconnected. He, a creature of the ocean that twists and rolls with fluid freedom. And me, upright and insubstantial, covered in layers to protect the fragility of my own life, free only to amble the coastlines. Our worlds seem completely detached. While there may be little to tangibly connect the two of us, something does. He looks into my eyes, and I into his. I see him and he sees me. For man and whale to be locked in such a moment is the closest thing I can describe to magic. This is Hvaldimir.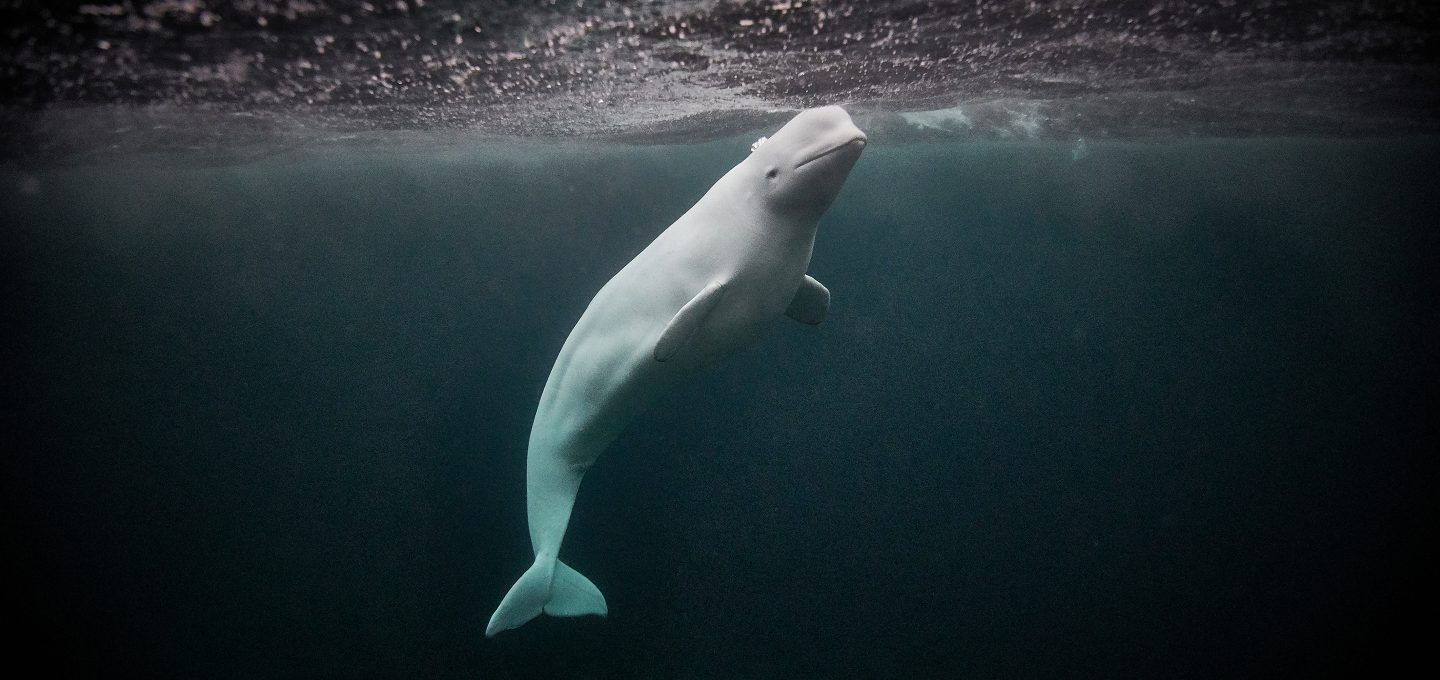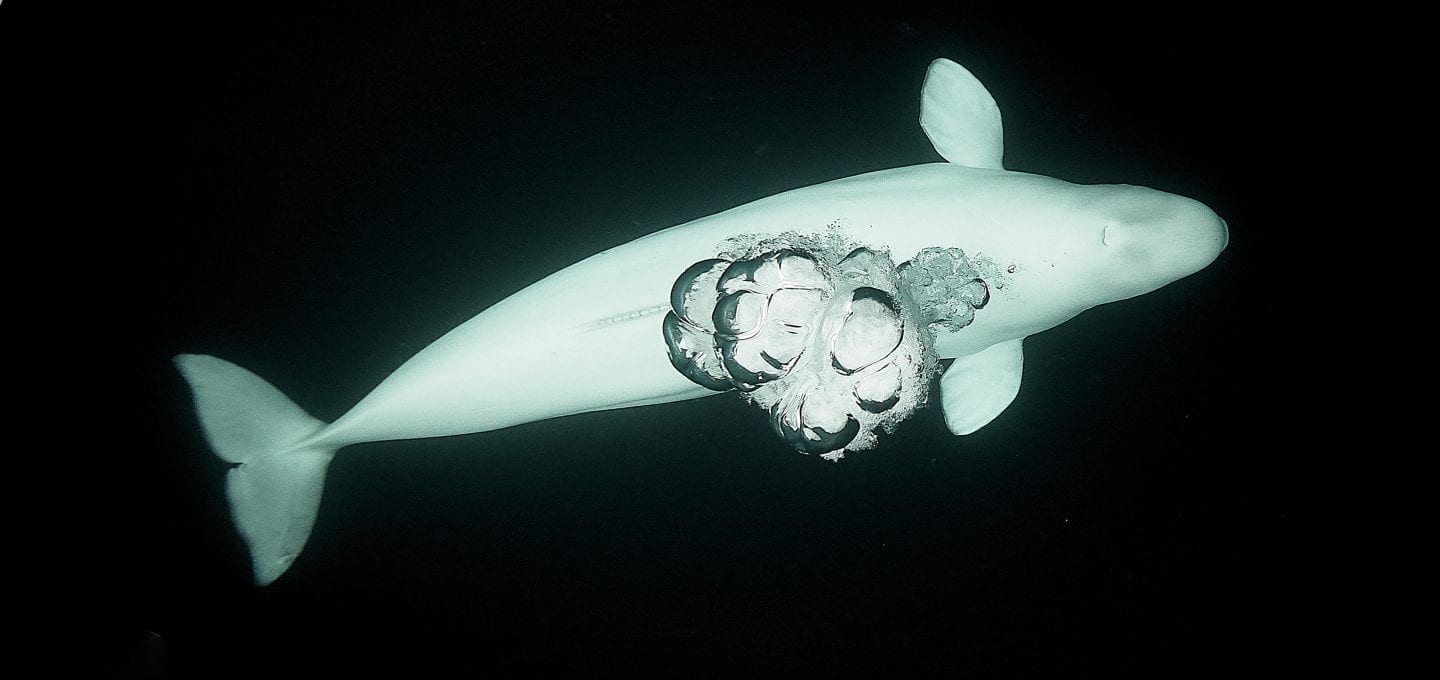 Hvaldimir, the name given to the adult male beluga whale discovered in Norwegian waters in mid-spring 2019, has, in the year since, become the topic of international speculation, increased and often heated debate, reached global viral stardom and above all, captured the hearts and minds of all who encounter him. And while the origins of Hvaldimir remain unknown, claims that he was trained as a spy by the Russian Navy have gripped public and media attention; his name a portmanteau of the Russian name Vladimir and the Norwegian word for whale, hval (pronounced val). During a week-long orca assignment in Arctic Norway with marine biologist and sailor Andreas B. Heide last November, I encountered Hvaldimir for myself while in a remote harbour near Skjervøy. Guided by Heide and the WWF's Global Lead, Vincent Kneefel, I spent almost an hour in the water with the remarkable cetacean. I began to understand the complexities of his new life in Norway; in a region where belugas are never ordinarily found. I soon discovered the force with which people would fight for this animal's welfare. Questions whirled. What do we do with him? Should he be reintroduced to a wild pod? Why should we care about one whale? What is our duty of care to him? However, when I returned home, I found myself asking one question: What is best for Hvaldimir?
It's April 26, 2019 and commercial fisherman Joar Hesten is working aboard his boat in the waters surrounding the island of Ingøy in Arctic Norway. The weather is calm, the darkness of winter slowly releasing its hold on the North. With just a few trips left of the season, he tries a new fishing area and points his boat towards a group of other vessels nearby. "When we passed through the boats, we saw a big white shadow in the water," he tells me. "I instantly knew that there was only one thing it could be, a beluga." As Hvaldimir approached the boat, Hesten saw that he was seemingly entangled in rope or fishing equipment. Yet the closer he swam, the clearer it became that he was wearing a harness. Hvaldimir rubbed himself against the boat, apparently attempting to remove it. "It was not good," says Hesten. "I thought that the whale was probably going to die a terrible death."
Photographs by
Fred Buyle
Continue reading...
To continue reading this article – and enjoy full digital access across Oceanographic – sign up to Ocean Hub today! More info below…
Keep reading by signing up for an Ocean Hub subscription
Ocean Hub. More than a magazine subscription.
As well the delivery of all new editions, members unlock access to exclusive products, services and discounts, as well as EVERY digital back issue we have published.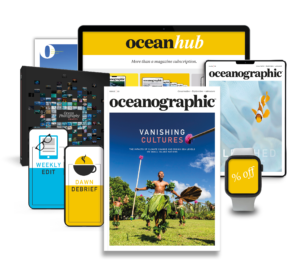 Find out more

about Ocean Hub subscription
Shop window
current issue
Back Issues
Enjoy so much more from Oceanographic Magazine by becoming a subscriber.
A range of subscription options are available.
Sea stories
Beautiful ocean stories straight to your inbox.
Join our community.