Conservation
Revered reefs
The Tubbataha Reefs Natural Park is the pride and joy of the Philippines, a remote haven saved from the brink of destruction. It is a story of conservation action, grass roots pride, and effective and long-lasting ocean governance.
Words & photographs by
Henley Spiers
Words & photographs by
Henley Spiers
In the world of coral reefs, Tubbataha is the Philippines' heavyweight contender. In a country of 7,641 islands, at the heart of the Coral Triangle, Tubbataha Reefs Natural Park is accorded the same reverence with which Americans will speak of the Grand Canyon. A national treasure and UNESCO World Heritage Site, Tubbataha's celebrity was even extended to the local currency, where it is featured on the 1,000 Philippine peso note, the highest denomination in circulation.
If your goal was to build an underwater Noah's Ark for coral reefs, you'd be hard pressed to imagine a better location than that of Tubbataha. Situated in the centre of the Sulu Sea, over 100km from the nearest landmass, Tubbataha is composed of two large atolls (named simply north and south) and a nearby coral structure, called the Jessie Beazley Reef. Its presence is nearly imperceptible from the surface, with just a few sand spits, rocky islets and a lighthouse visible, as well as the upper sections of shipwrecks.
It is wrongly positioned on certain marine maps, and Jessie Beazley was in fact the name of a captain whose ship crashed into the reef system which now bears his name. Such accidents remain a relatively regular occurrence in Tubbataha, with high profile groundings such as Greenpeace's Rainbow Warrior in 2005 and the USS Guardian minesweeper in 2013. A Chinese ship carrying 400 crates of frozen pangolins also ran aground in 2013, with strong suspicions that it was looking to add to its illegal haul.
As well as being remote, it is exposed to the elements, so even those who wish to access Tubbataha are generally limited to a window from March to June, when sea conditions are most likely to be favourable. The absence of freshwater on Tubbataha's islets acts as yet another deterrent to human settlement.
If coral reefs are the rainforests of the seas, blessed with an unparalleled  biodiversity of life, the Coral Triangle is the heart of that aquatic jungle. Stretching through the waters of Indonesia, Malaysia, the Philippines, Papua New Guinea, Timor Leste and Solomon Islands, this area harbours more coral species (over 600) and reef fish species (over 2,000) than anywhere else in the world. Tubbataha lies around the middle of this triangle, and so benefits not only from an isolated location, but waters bathed in an unusually rich abundance and variety of life. Finally, its impressive area, covering 97,030 hectares, allows highly mobile marine life, such as reef sharks, to thrive under its protective blanket without restriction.
We set sail from Puerto Princesa, capital city of Palawan, making the 150km crossing overnight. The weather gods are kind to us and we awaken to the sight of a deep blue, glassy sea. As we slip beneath the surface, the sun rays shine down on a shallow hard coral garden. The scale of coral cover hits me first, stretching further than the eye can see, even in stunning 30m visibility. Coral is not only beautiful, but far more complex than you might think, for it is one part plant, one part animal, and one part mineral. Polyps, which look like a tiny upturned jellyfish, are the animal part of the equation, and it takes millions of them, side by side, to create this underwater eden. Each polyp secretes a calcium carbonate skeleton, and that provides the mineral structure for coral formations. Within its body, the polyp harbours a tiny single-celled algae, called zooxanthellae, and this plant delivers nutrients via photosynthesis (which is why we find the densest corals in shallow water, where there is the most sun exposure). It is the plant part of the coral which provides the colour, and is also the first to abandon ship when living conditions become too stressful. This results in the well-known phenomenon of coral bleaching, but a white coral is not dead, it is fighting to survive. With the zooxanthellae providing the majority of the nutrition, a coral has only a short time to live without it, but can still bounce back. Most often bleaching will occur when water temperatures change, as corals will only thrive within a relatively small band. A change of 1 or 2 degrees Celsius doesn't sound like much, but underwater, as on land, a sustained increase in temperature on even a small scale can wreak havoc. Occasional bleaching events are a normal part of coral existence, but a great concern today is that climate change has increased their occurrence, and decreased their interval, meaning corals are now in decline, with half of global corals lost in just the last 30 years.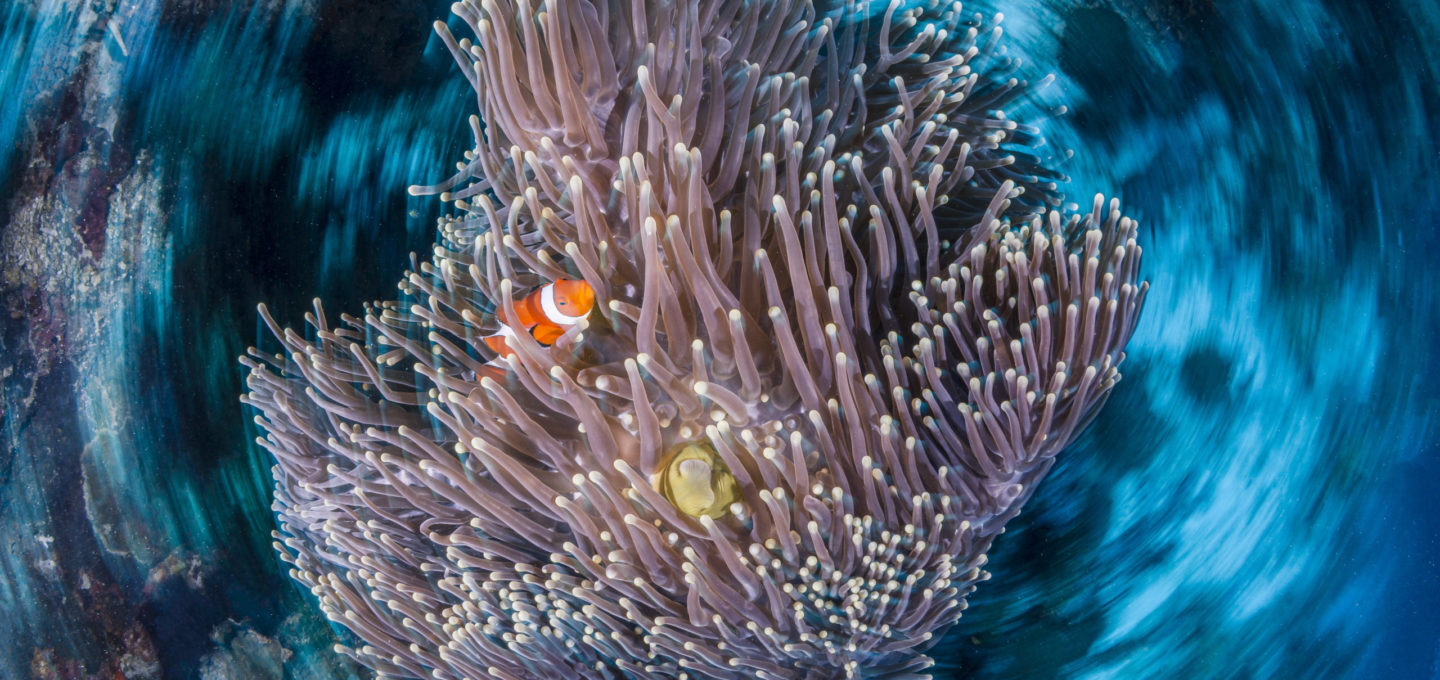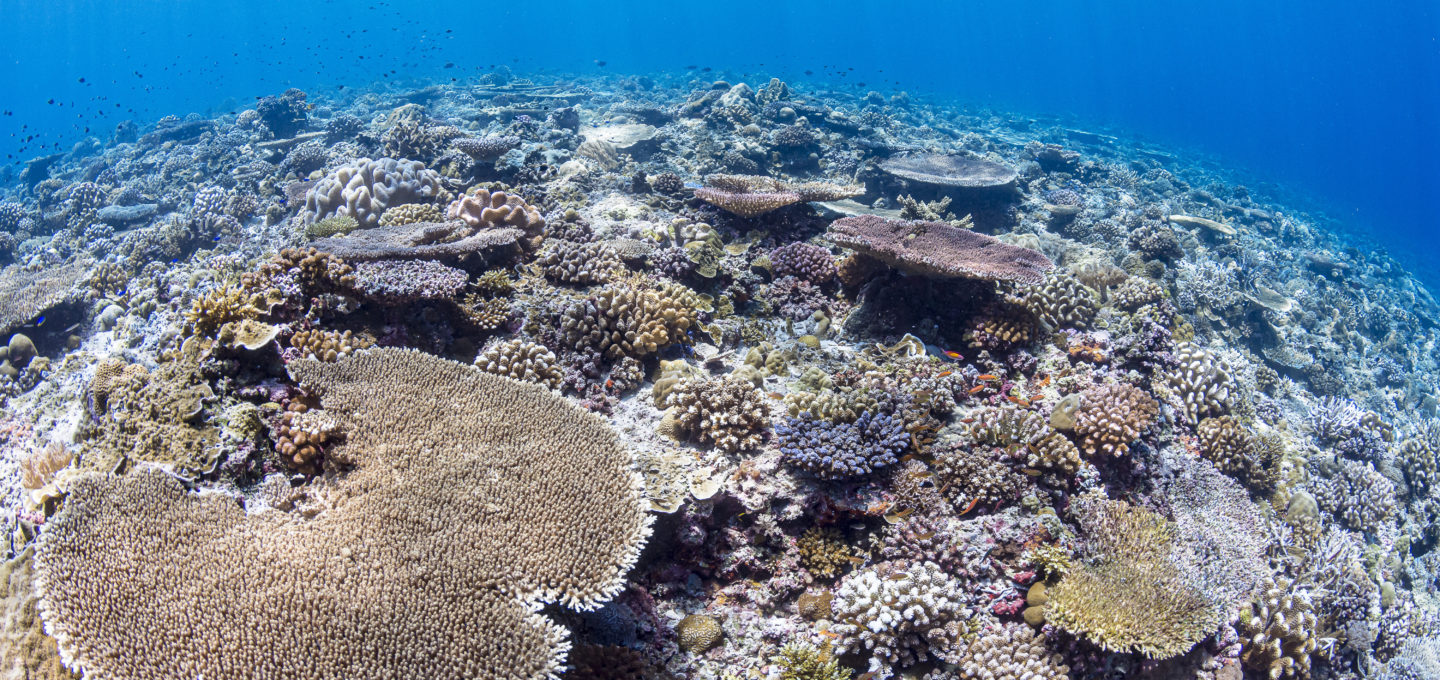 Continue reading...
To continue reading this article – and enjoy full digital access across Oceanographic – sign up to Ocean Hub today! More info below…
Keep reading by signing up for an Ocean Hub subscription
Ocean Hub. More than a magazine subscription.
As well the delivery of all new editions, members unlock access to exclusive products, services and discounts, as well as EVERY digital back issue we have published.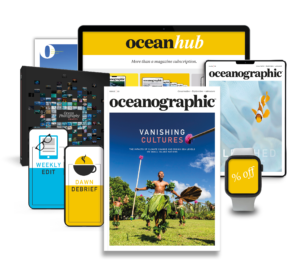 Find out more

about Ocean Hub subscription
Shop window
current issue
Back Issues
Enjoy so much more from Oceanographic Magazine by becoming a subscriber.
A range of subscription options are available.
Sea stories
Beautiful ocean stories straight to your inbox.
Join our community.