Adventure
Breathing new life into Dominica
In a remote corner of the Caribbean island of Dominica a small community of freedivers are breathing new life into an area devastated - and left cut-off - by Hurricane Maria, the worst storm in living memory.
Photographs by
Daan Verhoeven
Hurricane Maria battered Dominica's shoreline with a ferocity not seen in living memory. Waves towered over coastal houses, their timber frames no match for the weight of water dropped upon them. Winds tore across the island's hillsides, ripping trees from fertile ground. Almost every building on the island was damaged or destroyed. Many people lost their lives. "It feels like Dominica is finished," reflected one survivor to the UK's Guardian newspaper.  
The devastation caused by Hurricane Maria was total. Power was lost across the island, water was in short supply, people were left without shelter. Short-term recovery would focus on life-support – emergency aid, food supplies, clean water. But what of the long-term? How does an entire island go about rebuilding itself? Time, patience and financial support are all essential. So is community.  
When freediver Johnny Sunnex first arrived on Dominica in 2016, the island's houses and hills were full of life and awash with colour. There was no hint of what was to come. He was in Dominica on a scouting mission: to find a location suitable for hosting freediving training camps. He stumbled across Soufriere Bay in the southwest corner of the island. No waves, no current and no depth limit – freediving perfection. After running a test workshop he returned with his partner and fellow freediver, Sofia Gomez Uribe. Together they hatched an even bigger plan: to launch Dominica's first freediving school and competition.
Dominica is also known as 'Nature Island'. Surrounded by the raw Atlantic Ocean on its east coast and the milder Caribbean Sea to its west, Dominica is typified by both rugged and beautiful terrain: river-soaked mountains, tropical rainforests, volcanic lakes and gushing waterfalls. It is a feast for the senses, from its lush vegetation to natural hot-springs and clear ocean coves. It is not overloaded with manicured resorts – something, perhaps, to do with its hills. Sandy beaches are a rarity, but warm, deep and blue waters are abundant – as is the marine life within them. 
Johnny and Sofia make a striking pair. Johnny was born in Ngaruawahia, New Zealand, into a family of Māori descent. Surrounded by the Tasman Sea and the Pacific Ocean the curly-haired Kiwi swam competitively as a child and grew up surfing. He has always enjoyed being in the water and is one of only a handful of people on Earth who has dived 110m deep on breath-hold. Sofia is a virtual rock-star in her home country of Colombia. Educated as a civil-engineer, the 26-year-old started her aquatic career first as a synchronised swimmer and then a fin swimmer. Now with dozens of National and Pan-American titles, as well as multiple World Records under her belt, it is clear Sofia was destined for freediving. Gomez Uribe was named Colombia's most popular athlete in 2017, and for a nation whose favourite sport is soccer (of course) that says a lot.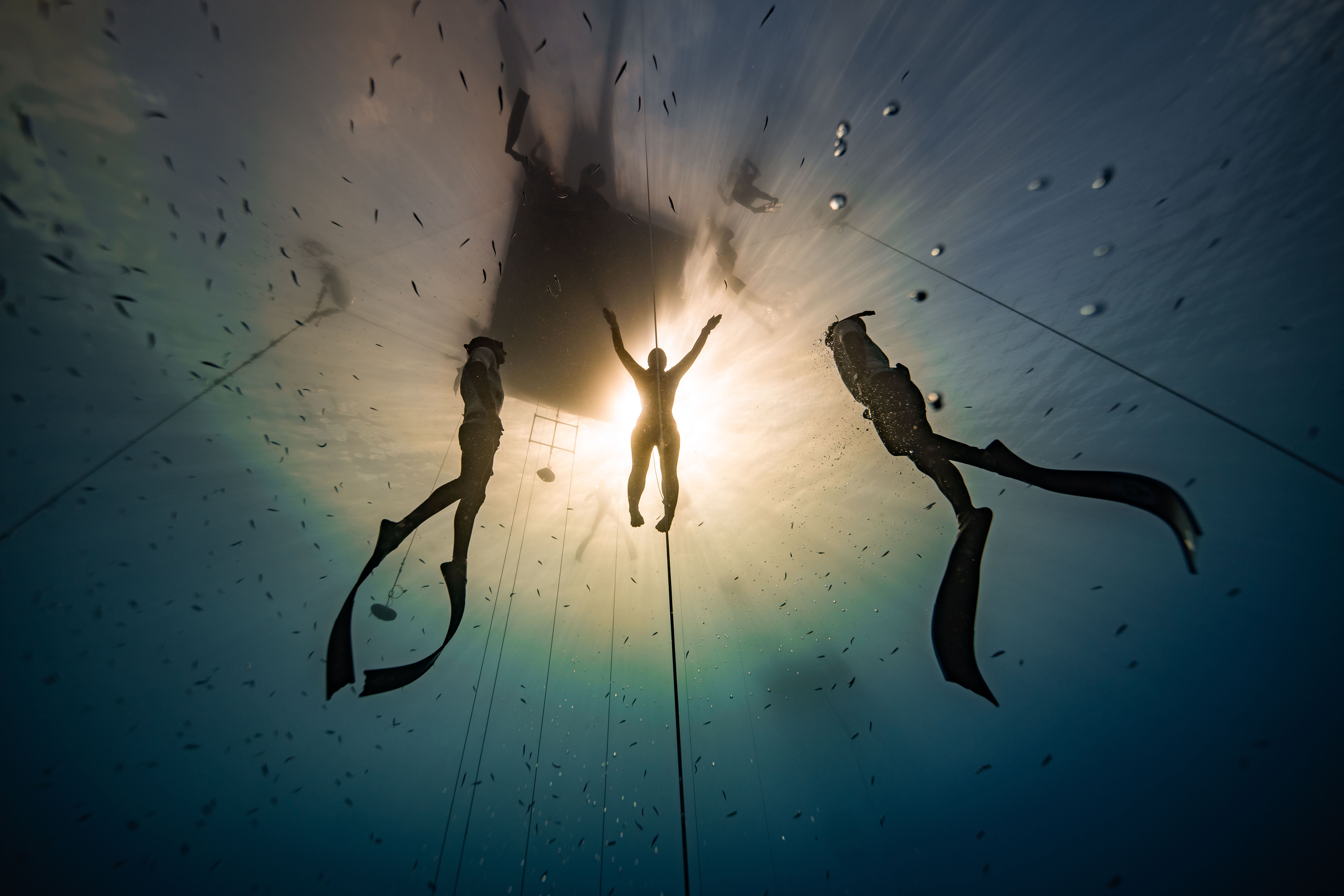 Photographs by
Daan Verhoeven
Continue reading...
To continue reading this article – and enjoy full digital access across Oceanographic – sign up to Ocean Hub today! More info below…
Keep reading by signing up for an Ocean Hub subscription
Ocean Hub. More than a magazine subscription.
As well the delivery of all new editions, members unlock access to exclusive products, services and discounts, as well as EVERY digital back issue we have published.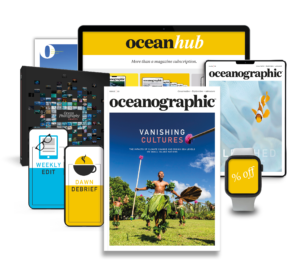 Find out more

about Ocean Hub subscription
Shop window
current issue
Back Issues
Enjoy so much more from Oceanographic Magazine by becoming a subscriber.
A range of subscription options are available.
Sea stories
Beautiful ocean stories straight to your inbox.
Join our community.