Conservation
Little by little
Words by
Alexander Neufeld
Photographs by
Coral Restoration Foundation™
Words by
Alexander Neufeld
In Florida, Coral Restoration Foundation™ is tackling the seemingly impossible task of restoring an entire ecosystem. Alexander Neufeld, the organisation's Photomosaics and Technology Coordinator, reveals what hurricanes, coral restoration and cameras have in common.
As part of their camera rental partnership with Coral Restoration Foundation™, the Danish dive camera manufacturer Paralenz seeks to help restore corals throughout Florida by providing important data. Their Blue Friday campaign will not only make their Vaquita camera more widely available, but will also directly help Coral Restoration Foundation™ in their efforts to plant and protect coral reefs in Florida. Scroll down for more info. 
About half an hour south of Miami International Airport, the bustling Ronald Reagan Turnpike merges with US Highway 1 and southbound travelers enter 'The Stretch'. For the next 18 miles, you hardly even need to touch the steering wheel, as you traverse the sea of grass at the boundary of Everglades National Park. This part of the highway spans the last bit of continental United States before you enter the Florida Keys, a string of islands that run southwest towards the country's southernmost point of Key West.
It was New Year's Day in 2016 when I drove The Stretch for the first time. As midnight approached, I was wrapping up my 24th hour of driving, a two-day trek from my hometown of Goshen, Indiana to Key Largo, Florida. My front passenger seat slowly accumulated granola bar wrappers and empty energy bottles. My backseat and trunk were stuffed with all of my worldly possessions (not much, admittedly, for this recent college grad) and my pet salamander, Hades. It was pitch black (to this day The Stretch still has almost no streetlights) so all I saw was a lane line that marked an unsettlingly narrow highway shoulder.
I made this first of what would be many trips across The Stretch to begin a four-month internship with Coral Restoration Foundation™, a marine conservation non-profit headquartered in Key Largo. By the time I arrived at CRF™, the organisation had already been around for over a decade, but was on the cusp of a massive growth spurt. CRF's core work involves growing endangered species of Caribbean coral – primarily the branching species staghorn and elkhorn – in offshore nurseries and then 'outplanting' these coral colonies to degraded reefs sites throughout the Keys once they reach maturity. Conceptually, there is nothing new about this. Aquarists have been fragmenting and growing clonal coral colonies for decades. Scientific studies have consistently shown coral outplanting to be an effective way of safely reintroducing individual colonies to wild reefs. But by 2016, it was the scale at which CRF™ was beginning to operate that was truly revolutionary.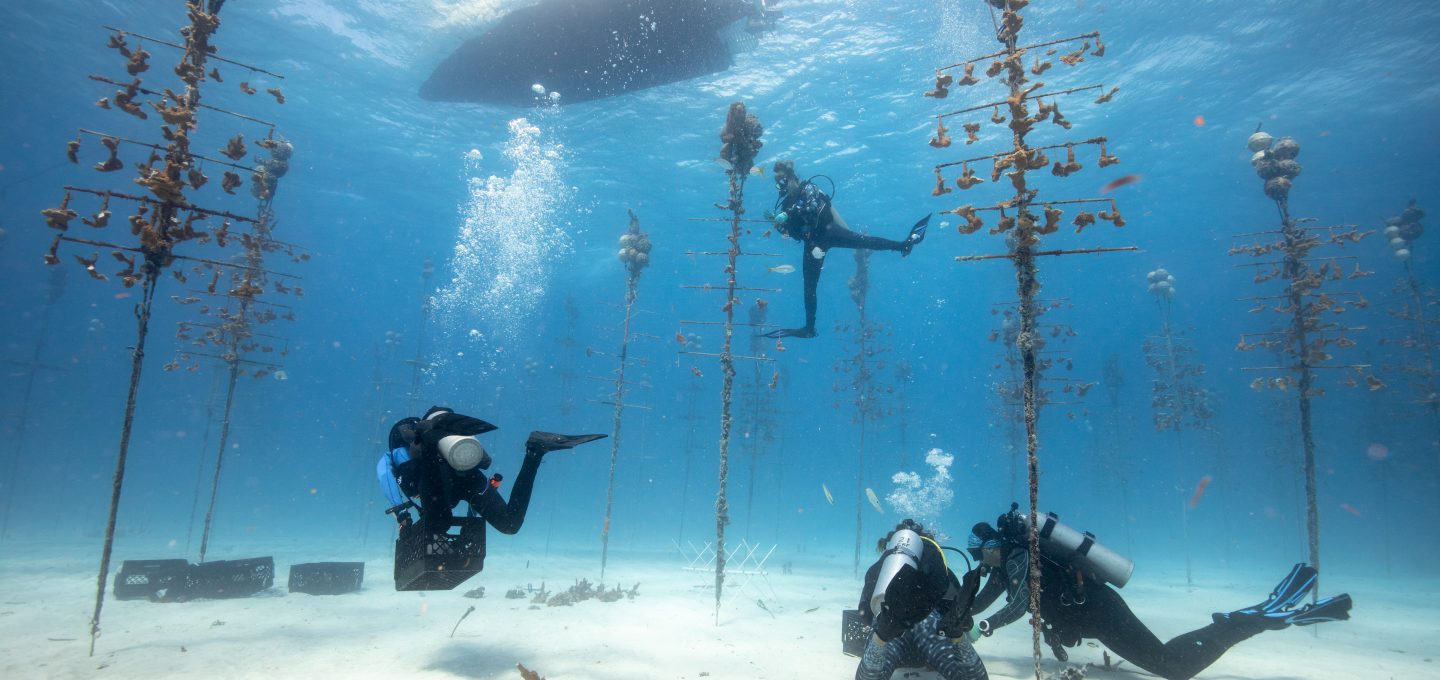 So how did my corn fields of northern Indiana turn into a tropical scuba diving destination at the edge of the country? When I declared my biology major and enrolled at Indiana University, I was dead-set on graduate school and academic research, or maybe even medicine. But what I stumbled upon during my freshman year was a fully-formed academic diving and underwater science programme, a 'scuba oasis' at the centre of the Midwest. I took my first course, which provided me with my Open Water Diver certification, and then I took another course, and then another, and then another…
By the time I graduated, I had college credits from classes like 'Rescue Diver' and 'Professional Diver Development', as well as field courses in Grand Cayman and the Dominican Republic. And somewhere in the middle of all this, I realised that academia – with its jargon, its graphs, and its 'statistical soup' – was insufficient for properly communicating the science I was now doing to anyone who would never don a wetsuit or inflate a BCD. So I dropped my tiny point-and-shoot camera into a dive housing and started documenting everything. Bingo. My eyes had been opened to the world of underwater photography.
After my CRF ™internship ended, I assumed a new, full-time position with the organisation, managing field data for what had become the largest coral growing and outplanting effort anywhere in the world. By this point in time, CRF's largest in-situ nursery housed over 40,000 colonies of endangered corals, and we were outplanting over 15,000 colonies annually. At this stage I also become the in-house cameraman at CRF™, and this opportunity to demonstrate to the world the daily impacts of our organisation was a point of immense personal pride.
But then suddenly everything changed. I had to leave the Keys, along with most of my fellow residents. On September 10 2017, Hurricane Irma made landfall about 20 miles east of Key West, the first major hurricane to strike Florida since 2004. I evacuated back to my family's home in Indiana but as a Keys resident, I was eventually given permission to re-enter following several weeks of emergency cleanup and aid. I crossed The Stretch to see for myself what locals were already calling 'Irmageddon'. Telephone poles and power lines were still down along the highway. The massive Publix grocery store sign in Key Largo lay in a crumpled heap of metal and plastic. Jet skis were washed up hundreds of feet into the mangroves and I vividly recall driving past a three-story house that had collapsed upon itself and sunk into the ground.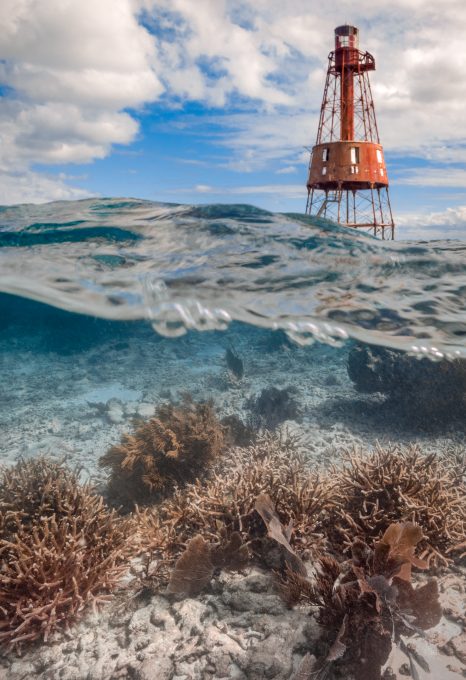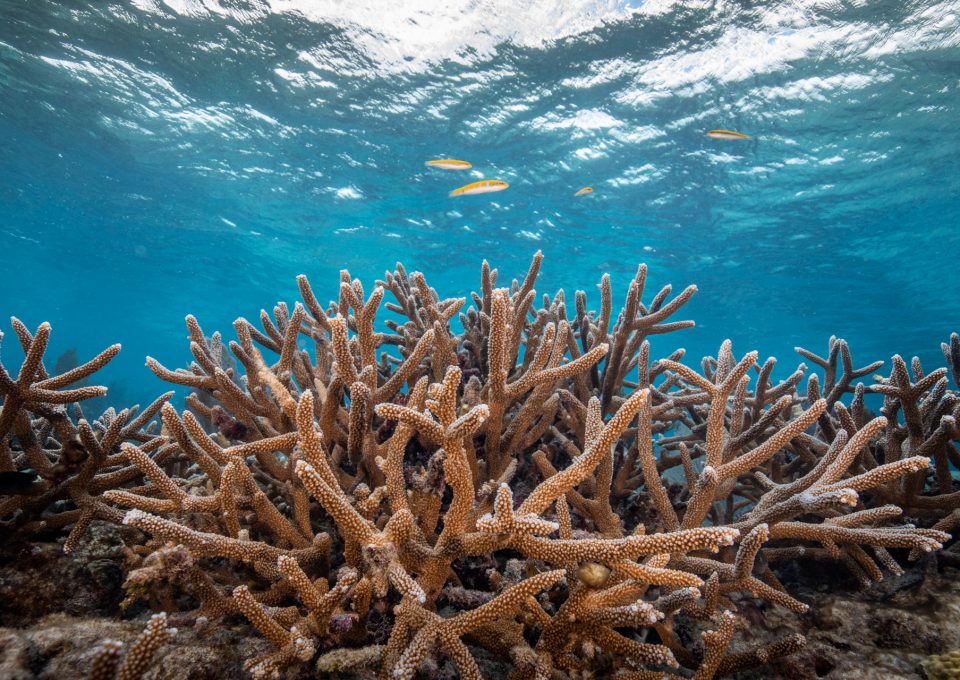 When I eventually got out to the reefs, the scene was just as devastating. One of CRF's longest-running restoration sites, an area on Pickles Reef, was utterly decimated by the storm's wave energy. A full two feet of sand had been swept from the channels of the reef, marked by the exposed line of clean rock at the base of the reef spurs. And on top of those spurs, nothing remained. No sea fans, no sponges, and none of the thousands of staghorn corals that had grown into thickets during years of CRF™ restoration work. Surveys of our other restoration sites revealed similar patterns of loss.
One weekend, the CRF team drove south from Key Largo to aid in a cleanup event taking place in a neighborhood on Cudjoe Key, where Irma landed. This cleanup was a very different kind of restoration work than what our typical day-to-day involved, but it was still restoration. And over the course of that day and the months of rebuilding the Keys that followed, I came to develop a 'philosophy', applicable to both hurricane and coral restoration.
On Cudjoe Key, the scale of destruction was simply overwhelming. Where do you even start with this scale of work. How do you keep from succumbing to hopelessness? The question is exactly the same in coral reef restoration. For decades now, corals around the world have been steadily dying, leaving empty reef crests devoid of habitat for animals, without the capacity to mitigate the power of storms like Irma, and without any way to naturally return to the diverse and complex biome they used to be. So how can you possibly begin to restore an entire global ecosystem?
Just like with hurricane cleanup, you start by doing one little thing to help. Sweep the sand out of a house. Pick up those roof shingles and stack them out of the way. Grab a sponge and start scrubbing the mold from the walls of a bedroom. Find one little thing that needs to be done and then do as many more little things as you can. Keep the needle moving in the positive direction, always. And then get as many people as possible to do as many little things as they possibly can and the needle can move further and further. Coral reef restoration is the same. It feels daunting, but the only way to begin making progress is if a bunch of people do a bunch of little things. Planting individual corals one by one on a reef tract hundreds of miles long may not feel like a lot, but it's adding up – to the tune of 35,000 CRF™ outplants in 2020 alone. CRF™ has now returned more corals to the reef since the hurricane than we did in all the years prior to the storm. We have restored over 17,500 square meters of Florida's Coral Reef, rehoming more than 140,000 corals in the wild. Skipping plastic bags or refusing single-use items may seem inconsequential, but those are the bags that aren't winding up in a landfill or drift in the ocean. Positive changes, even the smallest ones, yield positive results.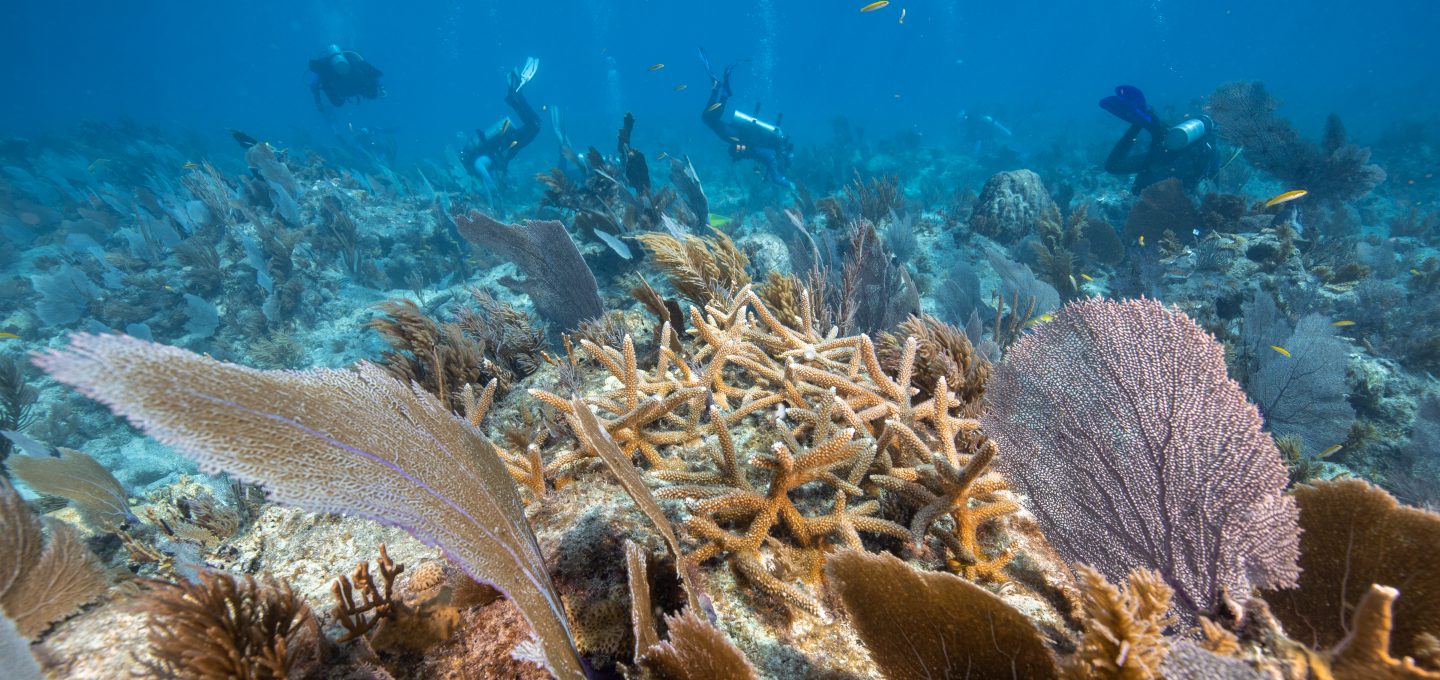 Just one month prior to Hurricane Irma's arrival, I had begun developing a new photography project for CRF™. Building on work I'd been introduced to in college, I started creating a 'photomosaic programme' for CRF's restoration sites. Photomosaics are single, high-resolution images that are digitally stitched together from hundreds or thousands of smaller photographs. As a result, they offer a bird's eye (or, fish eye?) view of an entire reef community. The very first mosaics of coral restoration I created were at Pickles Reef. After Irma, I re-mosaicked the same areas. The contrast was visceral. As sickening as it was to visit the Pickles site again, a lightbulb had gone off in my head, just as it had when I first started doing underwater science photography in college. If CRF™ could document the inverse of what I'd just seen at Pickles – a barren reefscape becoming lush with coral from restoration efforts – then photomosaics would be the perfect way to communicate this work to the public.
For the past few years, CRF™ has continued to grow and invest in our photomosaic programme, which now photographs and analyses over 50,000 square metres of Florida Reef annually and constitutes the main component of our Science and Monitoring Programme. But there is still work to be done, work that gets more people involved in doing those little positive things to push the coral restoration needle.
On any given summer weekend, hundreds or perhaps thousands of visitors to the Keys cross The Stretch for the first time, making the same drive I made almost six years ago. They come to enjoy the sunshine and the casual island life, but more than anything they come for the ocean and for the reef. And while they're here, CRF™ works to promote opportunities for our visitors to do those little things and help push the needle in a positive direction.
Of these opportunities, perhaps the most impactful to me personally, is offered through our partnership with Paralenz, a Danish underwater camera company that is working with us to crowdsource photos and videos taken by divers and snorkelers in the Florida Keys. Paralenz cameras are now available to rent in many dive shops in the Keys and renters have the option to share footage taken from dive trips to the Keys' reefs with CRF™. This footage can provide our team with more regular visual updates from more reef sites than we would ever be able to manage ourselves – an effective citizen science program built into a visiting diver's daily itinerary.
And here we find a merger of my two concepts: photography that can contribute to science and to effective scientific communication, combined with a way to involve more people in doing more positive little things. Though I am acutely aware of the uphill struggle facing coral reefs and their chances for restoration, I cannot help but remain optimistic, given what I know about the power of photography and the abilities of large groups of dedicated people, making their positive impacts, little by little.
The feature was originally published in Issue 21. 
As part of Paralenz's Blue Friday campaign that runs from 22 to 29 November 2021, their Paralenz Vaquita camera will be available for 20 per cent off the regular retail price. Furthermore, 1 per cent of all revenue from Vaquita sales in this time period will be donated to Coral Restoration Foundation™ to support their work planting and protecting coral reefs in Florida. Find out more here. 
Photographs by
Coral Restoration Foundation™
Explore the current issue
Beautiful photography. Captivating storytelling.
Take a look inside the latest issue of Oceanographic Magazine.
DIGITAL SUBSCRIPTIONS
Subscribe to the digital edition for just £20 a year, or enjoy it for free courtesy of Oceanographic's partnership with Marine Conservation Society. No cost, no catch.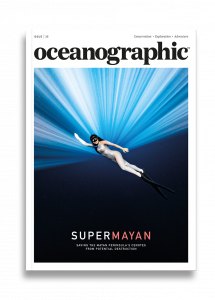 Sea stories
Beautiful ocean stories straight to your inbox.
Join our community.