Exploration
Unknown territories
As part of the 'Expedition' project, British presenter and naturalist Steve Backshall has spent the last four years exploring unknown parts of our planet. One of these expeditions led him to the Revillagigedo Islands in the Eastern Pacific, in search of a fabled shark nursery that could be the key to protecting the region.
Photographs by
Luke Inman
A large shadow looms from the blue, barging me aside with her freckled maw. The bus-sized whale shark was oblivious to my gnat-like presence in her world. Two dozen suckerfish that hitchhike on her freckled sides flicker around me for a second to see if I might be an enticing new host, before reattaching to their swimming buffet. The seamount-scape around me is a world turned upside down; a submerged volcanic pinnacle with its summit just cresting the swell. Above me silhouettes of barracuda and sailfish glide like vultures round the soaring cliff face. Alpine storm clouds are replaced by foamy crashing waves, for mountain gales substitute the torrential currents that toss us around like pantyhose on a washing line. Below my fins the vertical rock wall appears to drop to infinity. Just a short swim away is the abyssal plain at 3,600 metres in depth. We cling close to the sanctuary of the rock; an ill-judged swim stroke could have you out in the current and swept off into the Pacific. At the edge of our gaze a shiver of silky sharks a hundred animals strong floats with arrogant ease. They look like tiny sperm in a petri dish, but each is longer than me, and a precious predator our planet can ill afford to lose. 
Mexico's Revillagigedo Islands are a UNESCO world heritage site, the biggest marine reserve and no take zone in all of North America at 150,000 square kilometres. The Revillagigedo Islands national park – which consists of just four small islands – sits astride two tectonic plates, and at the intersection of two ocean currents. From the north flows the cold California current, and from the east the warm North Equatorial current. Its remoteness, protection and peculiar oceanography makes it one of the most biodiverse and exciting marine destinations on earth. Spring of 2020 and my team was being afforded a rare privilege – to map and survey underwater areas previously unexplored in the region. Our expedition to the Revillagigedo Islands had two missions: pure exploration and tagging and tracking pelagic sharks, working out as much as possible about their lives. This was critical, as 40 per cent of the shark species here are threatened with extinction. Tagging pregnant females could give vital information as to their potential pupping and shark nursery sites, which could then become important places for conservation protection. 
While I was ostensibly team leader, in reality Mauricio Hoyas – or 'Doctor Shark' – was in charge. Mau is the most active shark scientist in Mexico, and has tagged more than 300 sharks in Revillagigedo national park alone. Together with Frida Lara who completed her PhD on the movements of sharks in the archipelago, and Alejandro Gonzalez, the director of the National Park, we had a formidable team. 
For the first 20 hours of our journey out to Revillagigedo, the seas were high and heavy. Most of the crew lay out on the deck wrapped up in towels, faces drained of blood and a Dulux colour chart of greens and yellows. Over the third night though the seas dropped, and we woke to a gently undulating quilt of blue. Flying fish startled by our prow leapt from the water and powered themselves over the surface using wing-like pectoral fins. Tiny black storm petrels fluttered around the surface with their bat-like flight pattern, tapping on the water with their feet to bring plankton up to feed on. 
Perhaps the most abundant shark species around the Revillagigedo Islands is the silvertip. It's a handsome shark, sleek lines, extremely hydrodynamic, and with clean silver or white lines running down the dorsal and pectoral fins. The silvertip is pugnacious in personality. They swim directly at you, before banking away at the last second. They are a large, slow-growing species, but here, most were youngsters, not much more than pups. It turns out that this is a silvertip nursery, and further out in the big blue the adults congregate. 
As youngsters, silvertips mostly feed on benthic (bottom-dwelling) prey like skates, rays and octopus, but as they get bigger, they'll feast on other predators, like scad, jacks, trevally, tuna, wahoo and other sharks. These in turn have been feeding on smaller fish that may have themselves fed on plankton, and that plankton bioaccumulates poisons like mercury. Every step of the chain results in higher concentration of these lethal pollutants. Even though we are 720 kilometres from the Mexican coastline, the silvertips here are still laden with the industrial pollutants we flush out to sea. When I asked Maurizio what would happen if you ate the silvertip sharks here, he explained that it would be "really bad" as his "studies showed that levels of mercury are really high". "If you are a pregnant woman, you can't eat predatory fish, and eating one of these silvertips could kill you," he added. 
Our main Revillagigedo expedition goal is exploration of the undersea features around the distant island of Clarion. The furthest west island of the archipelago, it is 24 hours steaming from the nearest tiny seamount. With Alejandro on our team, we have been given unique permission to explore the undived sections of the coastline, and to use DPVs; diver propelled vehicles or scooters.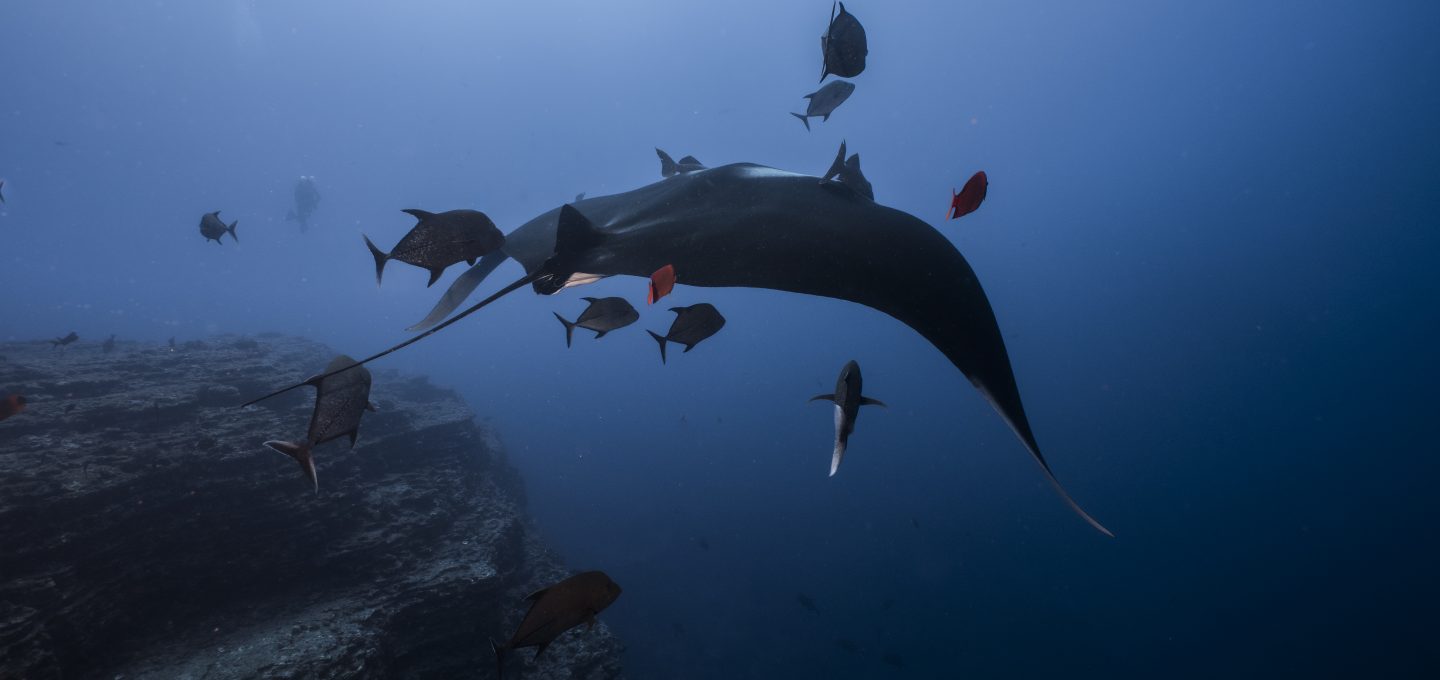 Photographs by
Luke Inman
Continue reading...
To continue reading this article – and enjoy full digital access across Oceanographic – sign up to Ocean Hub today! More info below…
Keep reading by signing up for an Ocean Hub subscription
Ocean Hub. More than a magazine subscription.
As well the delivery of all new editions, members unlock access to exclusive products, services and discounts, as well as EVERY digital back issue we have published.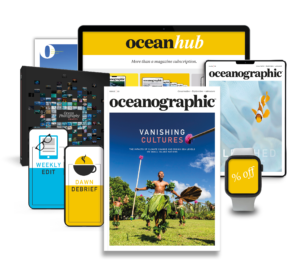 Find out more

about Ocean Hub subscription
Shop window
current issue
Back Issues
Enjoy so much more from Oceanographic Magazine by becoming a subscriber.
A range of subscription options are available.
Sea stories
Beautiful ocean stories straight to your inbox.
Join our community.