Adventure
Behind the lens: André Musgrove
Behind the Lens places a spotlight on the world's foremost ocean photographers. Each edition focusses on the work of an individual who continues to shape public opinion through powerful imagery and compelling storytelling.
Interview by
Oceanographic Magazine
Photographs by
André Musgrove
Interview by
Oceanographic Magazine
André Musgrove is an underwater photographer, cinematographer, filmmaker, professional freediver and spearfisherman born and based in The Bahamas. 
Best known for his unique style of shooting creative concepts underwater, André Musgrove has worked on a variety of projects with international brands including National Geographic, Discovery Channel, GoPro, Rolex and the World Wildlife Fund. 
Oceanographic Magazine (OM): When did you first connect with the ocean? 
André Musgrove (AM): For me, the ocean has been a constant throughout my life. I've always loved it. I started getting into the ocean when I was about eight years old when my dad started to teach me spearfishing. Here in the Bahamas, we can only do spearfishing legally when freediving so that's why I decided to learn it. And this is how I developed my love for the ocean. I ended up picking up a camera because I wanted to share my memories and my adventures with my friends who weren't there.
OM: How did you start your career as an underwater photographer? 
AM: When I was younger, I always had a camera in my hand. I didn't really think much of it. I just really liked taking photos of cool things. When I was in high school, I would always take photos of my friends playing sports, getting those action moments. And after I left high school, I started working at dive shops where they had an underwater photography department. My job basically was to take underwater photos and videos of guests or film shoots or anyone that we had showing up there every day. That was kind of how I started learning and building up my experience. 
OM: Your photography style incorporates traditional marine life, artistic elements, freedivers and more. How do you constantly innovate your images? How do you get your creative ideas? 
AM: I didn't really have much of a process for a long time. I would just go to a spot that I knew was cool and would then try to figure out an angle that looked great. Everything used to be very in the moment. Now that changed completely. I've been to many of the places here in the Bahamas, so I go there with a plan in mind of exactly what I want the person to do, I know the angle that I want, the time of day, the tide and that's basically what I build my concepts around. For photo references, just to get some creative ideas about poses or the composition, I get those from Pinterest by searching for fantasy conceptual art. I don't ever search for underwater photography or freediving or anything like that because all the photos tend to look the same. So, by searching somewhere outside the field, I get most of my ideas and then I start building a board about that particular image with the idea, the time of day, the tide, the person I want to shoot and even the colours. 
OM: How do you find your subjects and models? 
AM: Most of the time I work with friends because I like to work with people that I trust and who trust me. It can be really difficult to take the kind of images I do, so I can't just grab anyone to execute my ideas. I like to use the same people too because it's better for the consistency. We then all know what we're going for and they trust me and my crazy ideas. 
OM: You work a lot with models and freedivers underwater – what makes this task so difficult? 
AM: The person, of course, needs to be comfortable holding their breath underwater. They need to be a comfortable freediver. They need to be very experienced in the ocean and need to be able to perform underwater. That has a lot to do with getting a pose, making sure that your toes are pointing, ensuring that your head is facing upwards, that your shoulders are relaxed, that your hair is falling in the right way. There are a lot of factors that you have to keep in mind. And ultimately you have to enjoy it because we sometimes spend an hour or an hour and a half just to get one photo. You have to be disciplined, talented underwater and just have a good spirit. You need to push through the cold and discomfort but still have fun. 
OM: Probably one of your most viral images shows a woman in a yellow dress sitting at a piano underwater. What went into getting this shot? 
AM: It was probably one of the most difficult photos I have taken. We were at the location for an hour and a half. I had an idea in mind. It's not a shot that wasn't done before, it's in a popular location, but I've never seen it done in the way that I wanted to execute it. We didn't have much control over the time of day and the lighting and the tide so we ended up going there at a time with really, really strong underwater currents which made it difficult for us to stay in place underwater. I had my wetsuit and fins and camera and Steph only had a mask and the dress. She held on to me and I had to swim her up the current towards the front of the piano. She gave me the 'okay' when she was ready to go down and took off her mask. She dove down and the current kept pushing her back into the piano. She would dive down, grab onto the piano, get into position and lock her knees under the piano. That's why her toes are up in the image – to hold herself down. Then she fixed her hair. All of this happened while I was swimming sideways, up the current to take the photo. And when she was done, she just floated back up to the surface. You use a lot of energy at the bottom. She was down for like a minute which may sound a bit short but when your heart is pumping and you have adrenaline flowing and you need to remember so many things like the position of your hair, your face, your toes and your hands, it can take a lot. I also had to make sure that I had the right settings and right angles, while not disturbing the bottom. In the end, we probably took three takes for the short video and six to seven takes for the photo alone.   
OM: What would you advise people wanting to further their career as underwater photographers? 
AM: I learned most of my skills from practicing every day at the dive shop. YouTube also helped a great deal. I would advise getting really familiar with just being underwater whether through scuba diving or freediving before you pick up a camera. That will help a lot with understanding your subjects, whether that is people or animals or a combination of the two. Without a camera in your hand, it will help you a lot so when you do pick up a camera it will be like second nature and you will know where you should be and so on. 
OM: Many images of yours went viral on social media. Do you generally see social media as a positive tool for your career? 
AM: I feel blessed that my experience has generally been positive. People reply to me saying that they get a good feeling from it, they enjoy seeing it and they learn a lot about what things are underwater and what people can do underwater. Some of them feel inspired to try new things so it has been a pretty positive experience.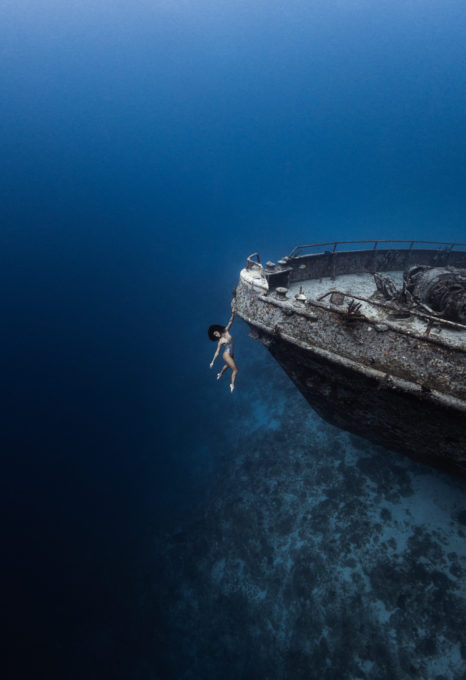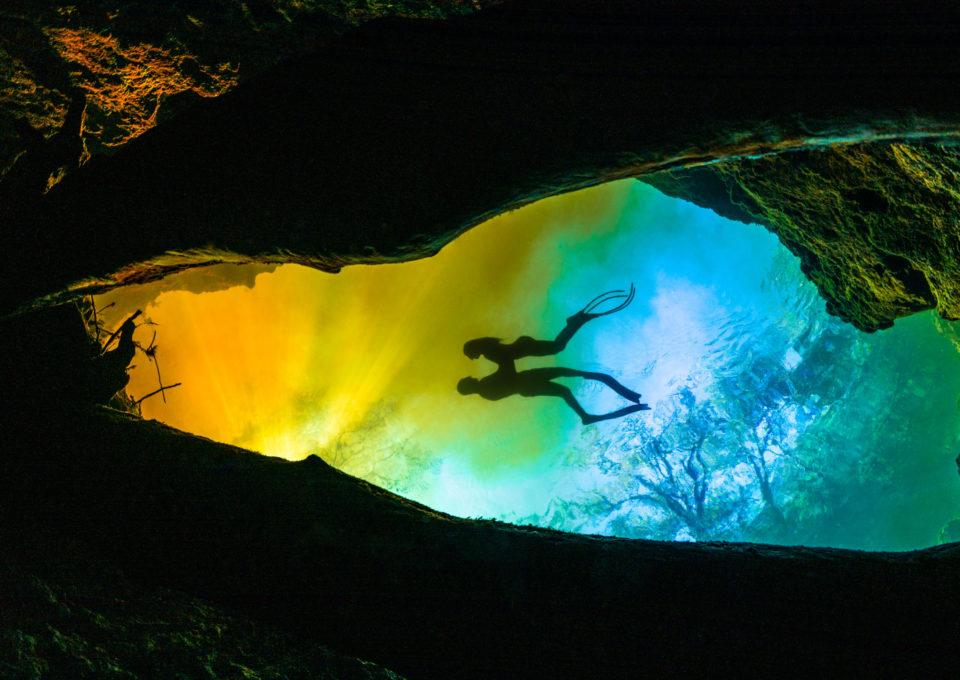 Photographs by
André Musgrove
Continue reading...
To continue reading this article – and enjoy full digital access across Oceanographic – sign up to Ocean Hub today! More info below…
Keep reading by signing up for an Ocean Hub subscription
Ocean Hub. More than a magazine subscription.
As well the delivery of all new editions, members unlock access to exclusive products, services and discounts, as well as EVERY digital back issue we have published.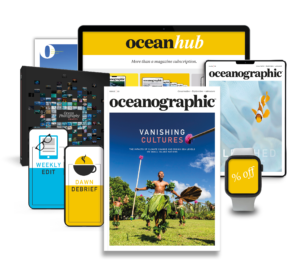 Find out more

about Ocean Hub subscription
Shop window
current issue
Back Issues
Enjoy so much more from Oceanographic Magazine by becoming a subscriber.
A range of subscription options are available.
Sea stories
Beautiful ocean stories straight to your inbox.
Join our community.