Conservation
Behind the lens: Shawn Heinrichs
Behind the Lens places a spotlight on the world's foremost ocean photographers. Each edition focusses on the work of an individual who continues to shape public opinion through powerful imagery and compelling storytelling.
Interview by
Oceanographic Magazine
Photographs by
Shawn Heinrichs
Interview by
Oceanographic Magazine
Behind the lens
A CELEBRATION OF THE ART CREATED BY PIONEERING OCEAN PHOTOGRAPHERS. FEATURING EXCLUSIVE INTERVIEWS AND BEAUTIFUL PHOTOGRAPHY.
Emmy Award-winning cinematographer, co-founder of SeaLegacy and founder of Blue Sphere Foundation.
Shawn Heinrichs is a conservation photographer, filmmaker and storyteller. He was one of the lead activists and cinematographers of the Emmy-nominated film Racing Extinction and, most recently, was featured in the award-winning Netflix series Tales by Light. He is a United Nations Wild For Life Champion, serves on the International Board of WildAid, is a Director of Manta Trust, a SeaLegacy Collective member, a Safina Fellow, and an iLCP Fellow.
OCEANOGRAPHIC MAGAZINE (OM): WHEN DID YOU FIRST CONNECT WITH THE OCEAN?
SHAWN HEINRICHS (SH): I was born in Durban, South Africa, at the northern reaches of the 'Wild Coast', a stunningly beautiful section of the Eastern Cape that stretches from East London in the south to the border of KwaZulu-Natal in the north… so the Wild Coast was ever-present in my early childhood. My first memories of the ocean are of a place of endless bounty. I remember seeing huge shoals of sardines, breaching whales, squadrons of cape gannets dive-bombing from above. If I waded into the sea it felt as if I would barely be able to move for the amount of life there. It seemed inexhaustible. But my family moved to the US when I was young and that connection faded for a while. When I graduated from high school and started scuba diving, I reconnected with the oceans and rekindled that love from my childhood. It was this experience – or, rather, the collective experiences over several years of diving – that put me on the path I am on now. The ocean wasn't the place I remembered as a boy. It was changing. It had changed. I witnessed, first-hand, the degradation of dive sites I had come to love, pristine environments withering away. I couldn't stand by and do nothing.
OM: DID THE TRANSITION FROM HOBBYIST DIVER TO CONSERVATION PHOTOGRAPHER FEEL LIKE A NATURAL PROGRESSION?
SH: It did, yes. I was a keen photographer already and had, throughout my scuba diving education, used a number of different cameras and housings, from the iconic Nikonos film cameras to compact digitals, and eventually SLRs. That progression and development gave me both the confidence and tools to chase those big stories early on – the things that I felt really mattered, that people needed to see and hear.
OM: WHAT WERE THOSE EARLY YEARS AS A CONSERVATION PHOTOGRAPHER LIKE?
SH: It's always tough when you're starting out. Slim to no budgets, restrictive contacts, and getting your work noticed. I spent years on the road. I still spend a lot of my time in the field – a conscious decision to stay connected with my work, rather than migrate behind a desk as a lot of people do. But those early years I was constantly moving: Mexico, Indonesia, Ecuador… more places than I can remember. These stories took a hold of me like I could have never imagined. There's a thrill in seeking the truth, chasing the story, taking those photos that make people sit up and listen. But the relentless nature of it can be pretty tiring, and it certainly was in those early days. Eventually, people started to notice. My work started appearing in mainstream media. People around the world were horrified by images of the shark fin trade, for example. The sheer scale of it. The butchery. It was a world most people had no idea even existed, so far removed from the everyday. That's one reason why photography is so important.
OM: WE'RE HAVING THIS DISCUSSION DURING LOCKDOWN AMID THE COVID-19 PANDEMIC. IS THIS THE MOMENT EVERYTHING FINALLY CHANGES?
SH: One of the most powerful things about this virus is that we've never felt more connected to each other. And we've never felt more connected to the consequences of our treatment of nature as a global community than we do this very moment. Everybody now knows that something that happens on the other side of the planet could affect every single one of us in a matter of weeks. How powerful is that?
There's this dark, scary side of it: the health consequences, the economic consequences. But there's also that bright silver lining: we know the source. Yes, there's some debate about the nuances of it, but we know it came from wildlife markets, from our flagrant disregard for other species, our sadistic treatment and exploitation of animals. Period. Describing the conditions these animals are in as 'appalling' would be a kind way to describe it. We're talking about the stuff of nightmares. Species are ripped out of jungles or bred on farms and piled together and on top of each other, by the hundreds, severely mistreated, injured, starved and abused to a point where their immune systems are so severely compromised that viruses and diseases run rampant. And because they're so close to one another, those viruses and diseases move back and forth, again and again – and it's the strongest viruses that survive, of course. The whole thing is like a horrific science experiment.
Then you put humans into the equation – people slaughtering and consuming these animals right at the moment that diseases have taken hold. We're seeing double, triple jumps – jumps between the same species, then to another species and then to humans. We've created the perfect conditions to make that happen. And, as I said, the viruses that are the strongest makes the final jump – and it spreads across the world like wildfire.
In a time when people are gripped with fear, feeling uncertain and powerless, this is the time to call it out and say, let's not only focus on the symptoms – which is to put on masks and try to create treatments and vaccines, that will only help for this round – no, let's also go to the source. Let's address our unconscionable, rampant, commercial exploitation of wildlife that is happening on a global scale, and let's go to these markets and shut them down for good. It is time for governments across the world, the regulators of these trade bodies that have oversight of how we exploit wildlife, to come together and say in a single voice, enough is enough, your business has become all of our business. Trillions of dollars lost, billions of people affected, millions of people sick, and hundreds of thousands dead; what more do you need in order to say we've had enough? That was the inspiration behind our #ExtinctionEndsHere video campaign with SeaLegacy and Global Wildlife Conservation: "I've sent you the hurricanes. I've sent you the fires. And now you have this. Am I finally enough for you to make a stand and do the right thing?"
OM: HOW MUCH OF AN OBSTACLE WILL THE 'CULTURAL BARRIER' PROVE TO BE?
SH: Cultural issues are cheerfully exploited by industry barons who use it as a card to manipulate consumers and policymakers. Let's talk about the elephant in the room: people say this is a China issue. The vast majority of people in China do not consume wildlife. They don't have the taste for it or the money to afford it. It's not in their diet. It is a very select few who do, because it's expensive. The vast majority of traditional medicine practitioners don't prescribe it because they don't buy into it – it's expensive, it's exploitative and not readily available. And the issue extends well beyond China, across Southeast Asia, West Africa and Central/South America – it is a global issue that requires global action. But again, in all of these places you're talking about very niche slices of society, medicine and markets that the industry wraps in this cultural blanket. They're using that cloak to hide the sinister trail of exploitation, this bloodline that goes all the way back to the remote forests and the oceans and exploits the Earth's most vulnerable creatures for profit. So, I'm sorry, there are no cultural excuses anymore – this pandemic just made it everyone's business. These illicit traders can't hide behind that cloak anymore. We're calling them out and shutting them down.
OM: HOW HAS THE PANDEMIC IMPACTED SOME OF THE PLACES YOU WORK TO PROTECT?
SH: It's important we don't completely buy into the 'nature is getting a chance to breathe' narrative. Yes, that's happening in countries where people have disposable income, where people can afford to shelter at home because they're not living at a subsistence level, where there's two to three people living in a home and there's two cars per household that are typically used for lengthy commutes to work. Yes, nature's getting a breather there… at least for a brief moment. However, when you consider the situation in many developing nations, where the food on the table each day depends on the money they earn or what they gather that day, where the oceans, the rivers, and the forests are the providers, and where tourism dollars provide the economic engine that supports many of the communities who hold the keys to our last great natural treasures, the situation is quite different. Nature is now coming under huge pressure in some of the most sacred places, including marine parks where poachers are operating in waters currently free of rangers and tourists.
In places where rangers are still operating, like Misool in Raja Ampat, we're getting reports right now that rangers are pushing harder than ever to hold that line, standing in defence against blatant attempts to exploit protected areas. Without folks like that, these places would be emptied – they're the last line of defence in these places. The upsurge in poaching is a terrifying prospect right now. The big question is: If we're seeing it happen in places like Misool, where rangers are still on patrol, where else is it happening where we don't have guards? The twist is that the very same trade that started this entire thing, the wildlife trade, is now the one that's proliferating during this time of vulnerability.
Photographs by
Shawn Heinrichs
Continue reading...
To continue reading this article – and enjoy full digital access across Oceanographic – sign up to Ocean Hub today! More info below…
Keep reading by signing up for an Ocean Hub subscription
Ocean Hub. More than a magazine subscription.
As well the delivery of all new editions, members unlock access to exclusive products, services and discounts, as well as EVERY digital back issue we have published.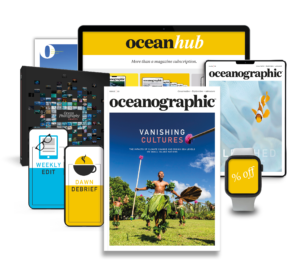 Find out more

about Ocean Hub subscription
Shop window
current issue
Back Issues
Enjoy so much more from Oceanographic Magazine by becoming a subscriber.
A range of subscription options are available.
Sea stories
Beautiful ocean stories straight to your inbox.
Join our community.