Adventure
Behind the lens: John Weller
Behind the Lens places a spotlight on the world's foremost ocean photographers. Each edition focusses on the work of an individual who continues to shape public opinion through powerful imagery and compelling storytelling.
Interview by
Oceanographic Magazine
Photographs by
John Weller
Interview by
Oceanographic Magazine
Photographer, filmmaker and writer, PEW Fellow and member of the SeaLegacy Collective, as well as a key member of the Provinsi Konservasi campaign team. In this interview, Oceanographic talks to him about his Last Ocean campaign, a decade-long fight to have Antarctica's Ross Sea declared a marine protected area.
OCEANOGRAPHIC MAGAZINE (OM): HOW DID YOUR CONSERVATION PHOTOGRAPHY JOURNEY BEGIN?
JOHN WELLER (JW): I started off as a landscape photographer. My first big mission was a three-year project on the Great Sand Dunes in Colorado. I'd hike for a week in every month, just me and a 100-pound pack on my back. I spent more time on those dunes than anyone, even the rangers. I developed an incredibly intimate relationship with the landscape. I fell in love with it. What was really striking to me was that it wasn't just a big pile of sand – it's actually a grassland. The grassland is started by sunflowers that take root in the sand. These flowers can grow up to four inches a day if they need to prevent themselves being buried by a sand storm. They can also turn their roots back into stem if they are excavated by moving sand. They're extremely hardy and once they take root they basically anchor the entire ecosystem. With a 10 percent vegetation coverage, it's estimated 50% of the sand movement is stopped, and with 50% vegetation sand movement is stopped almost entirely. When that happens, the grasses move in, which support the endemic beetles and kangaroo rats, the coyotes and the pronghorn antelope, and so on.
There are also elk out there on the dunes – big herds of them crossing this sandy moonscape. I was fascinated by this. One day, I was out on the sand sheet – the outer area of the dunes that's vegetated and very stable. I looked down and realized the entire sheet – the entire region – was a carpet of old elk tracks. The tracks created these perfect little divots in the sand sheet, held firm by the vegetation. This was my epiphany. When the wind picked up I witnessed all of this riffraff blowing through the sand sheet – little pieces of sticks and twigs, but also the seeds of rabbit brush, Indian rice grass and skeleton weed. The twigs and seeds were getting caught in the elk tracks and forming nests of sorts. Then I realised the elk droppings – the perfect fertilizer – were rolling down into the divots and providing the seeds with what they needed to grow. It came to me all at once: the elk were essentially planting their own food as they walked the dune system. My whole understanding of the connectivity of an ecosystem changed. The boundary between elk and grass was blurred – they were so tightly tied. The whole ecosystem was like a singular creature that had crawled up onto the dunes. The profundity of that connectivity – and that I was connected to the same life force, the same system, and the beauty of it – was something that I needed to speak for. That has been the driving motivation throughout my life since and certainly forms the basepoint of my work as a conservation photographer.
OM: YOUR PROFESSIONAL FOCUS IS ON COMMUNICATING THE VALUE OF PRISTINE PLACES, SUCH AS THOSE SAND DUNES. COULD YOU HAVE EVER IMAGINED THAT PATH WOULD LEAD YOU TO THE OCEAN? BOULDER, YOUR HOMETOWN, IS A LONG WAY FROM THE COAST.
JW: Boulder, incredibly, actually boasts the largest percentage of divers per capita in the US. We're an outdoorsy bunch! But honestly, the only contact I had with the ocean until my 20s, aside from a few trips here and there, was standing on the shores of Point Reyes National Seashore outside of San Francisco, watching immense breakers roll in. I was ignorant about the big ocean issues, the threats it faced. When I stared out at it, it seemed infinite and all powerful. It didn't seem possible there could be any limits to this place. So, honestly, no, I don't think I did expect my journey to take me to the ocean.
OM: WHEN DID THAT CHANGE?
JW: Soon after I published my book on the Great Sand Dunes. Having found this new path in life to speak for pristine places, a high school friend of mine got in touch. She was working in Antarctica on a penguin research team, traveling the world, and blew back through town every six months or so. She'd show up at my doorstep, unannounced, with a bottle of wine and we'd talk into the night catching-up. In 2004 she made one of these appearances, but instead of a bottle of wine and a big hug she handed me a scientific paper. When she thrust it into my hands, she told me I had to read it "right now". She quite literally made me sit down and read it before we caught up in any other way.
The paper was by an Antarctic ecologist named David Ainley. He's one of the most respected Antarctic scientists in the world, having worked in the region for 30-plus years. The paper? 'Acquiring a base datum of normality for a marine ecosystem'. It told this story of the Ross Sea, identifying it as the last large intact marine ecosystem left on Earth. It also identified its most imminent threat – an Antarctic toothfish fishery. The Antarctic toothfish is the top predatory fish in the Southern Ocean. The species lives down at 5,000ft and has a complex natural history. Until very recently nobody had found a larval fish or an egg, nobody knew when or where they spawned, only that they spawned in their late teens. It had all the markers of a deep-water fishery that could be easily overfished. It's happened time and again with deep-water fisheries. The paper blew my world apart. The idea that there could be one last intact large marine ecosystem left on Earth was almost impossible for me to understand because, as I've said, I had this perception of the ocean as this infinite place. Yet here was this story that totally contradicted that perception.
OM: AS A CONSERVATION PHOTOGRAPHER WITH A NEWFOUND FOCUS ON SPEAKING OUT FOR PRISTINE PLACES, YOU FELT YOU HAD TO DO SOMETHING…
JW: That's right. The paper kept me up at night – I literally couldn't sleep. So I called David Ainley. He invited me out to meet him and at that first meeting we made a commitment to each other that we would work together to promote a marine protected area (MPA) in the Ross Sea. This was a pristine place under attack. It was worth more alive than dead. It needed a voice.
David sent me home with an armful of papers and books to read – Antarctic and ocean science. I developed a vernacular expertise in ocean issues. I got to a certain point where I felt ready to write a project description for what we wanted to achieve, so that's what I did. I sent the finished document to 17 top Antarctic scientists because I knew I needed it scientifically proofed – what I was putting out there had to be accurate. I knew I was onto something because I got a positive response from every single one of them within 24 hours – including one guy who connected from a remote station in the Arctic by satellite.
I started writing a strategic plan. The idea was to create a wave of media that would wash over the world. This was the last pristine place, we had to protect it. I started calling it the Last Ocean, which quickly became the title of the project. It was then a case of leveraging my community and telling the story to everybody I knew. I didn't know where the break was going to come from, but I knew it would.
Photographs by
John Weller
Continue reading...
To continue reading this article – and enjoy full digital access across Oceanographic – sign up to Ocean Hub today! More info below…
Keep reading by signing up for an Ocean Hub subscription
Ocean Hub. More than a magazine subscription.
As well the delivery of all new editions, members unlock access to exclusive products, services and discounts, as well as EVERY digital back issue we have published.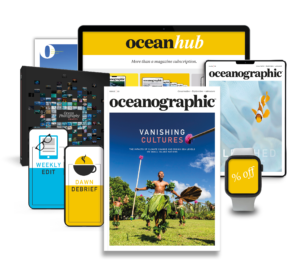 Find out more

about Ocean Hub subscription
Shop window
current issue
Back Issues
Enjoy so much more from Oceanographic Magazine by becoming a subscriber.
A range of subscription options are available.
Sea stories
Beautiful ocean stories straight to your inbox.
Join our community.